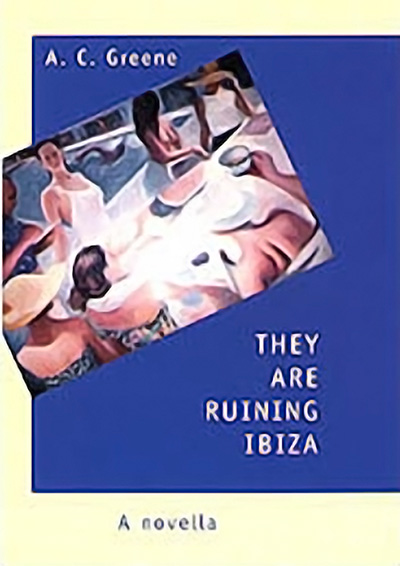 About Greene's They Are Ruining Ibiza
"They Are Ruining Ibiza is superb, stunning. The conflict is interesting, and the characters come alive and off the page. There is a Hemingwayesque quality about it; it's haunting and marvelously in tune with the present time. It may well be the best thing written by A. C. Greene." —Clay Reynolds
"…the book's strength is its vivid portrayal of decadent, endearing Ibiza, where locals and tourists alike seize every opportunity to throw off their clothing. Greene, author of more than 20 nonfiction books about Texas, makes an admirable leap in subject and genre in evoking this corner of the fun-loving Mediterranean." —Publishers Weekly
In They Are Ruining Ibiza, Charles Martyn, PhD, age 60, author of A Last Look at the American Novel, is on his second trip to Ibiza with his second wife Susan, in search of his artist son Led.
"Ibiza, those year ago, when he and Harriet and young Led had been here: The dozens of uninhabited beaches, the quiet villages and little inns, narrow roads through the dusty green hills, the calles in D'alt Vila, the old 'high' town that rose up to the sixteenth-century fortress; where you could touch the whitewashed houses on either side of the passageways with your outstretched arms. He remembered the old Ibicenco women in black, head to foot, and younger ones in starched, bunched skirts and raised bodices which caused them to look pregnant—made that way initially as protection against the Barbary pirates, someone told him… Ibiza… Ibiza; there was the little museum with its lovely, ancient pieces dedicated to Tanit, the Carthagenian goddess of love; there was that bit of rock in the sea where the Ibicencos believe Hannibal of Carthage was born, and the interior villages, still a century or two behind the world. What a lovely, remote time that had been. The visit was ruined, of course, eventually. Everything he had done was ruined eventually… except Susan. Harriet had gone from his life… And the end had started on Ibiza."
Now as Charles and Susan search the island for Led they are sent from place to place, without finding the elusive son.
About the Author
A. C. GREENE was born in 1923 in Abilene, Texas and after service in WWII he graduated from Abilene Christian College. He served on the staff of the Abilene Reporter-News, ran his own bookstore and headed the journalism department at Hardin-Simmons University. He joined the Dallas Times-Herald, serving as book editor and editorial page editor before being awarded a Dobie-Paisano fellowship during which he wrote A Personal Country. He wrote a column for The Dallas Morning News and wrote more than 22 books. He published numerous articles in The Atlantic, Texas Monthly, Southwest Review, Southwestern Historical Quarterly, New York Times Book Review, and wrote and narrated many television shows for PBS. He was a Fellow in the Texas State Historical Association and the Texas Institute of Letters.