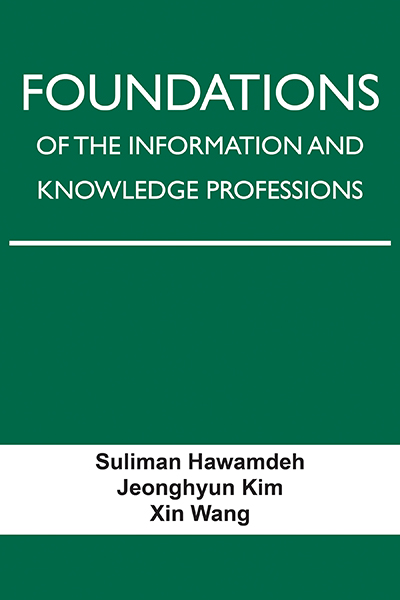 Foundations of the Information and Knowledge Professions
About Hawamdeh et al.'s Foundations of the Information and Knowledge Professions
The evolution of the information and knowledge professions was shaped over time by key technological advances and innovations, such as the invention of papers, the development of the printing press, the computer, the Internet, and the World Wide Web. Foundations of the Information and Knowledge Professions covers topics deemed essential for students at the graduate and undergraduate level who are seeking to join the profession. The authors cover key developments from the Library of Alexandria through contemporary libraries and digital technological platforms.
The advent of the Internet and the Web removed traditional geographical boundaries and allowed individuals access to information created in different languages, different cultures, and different political views. The digital transformation of business and commerce brought about fundamental societal changes and revolutionized how people access, use, manipulate, and interact with information. The move to the knowledge economy presented opportunities but also created challenges that information and knowledge professionals must be equipped to handle. The authors also discuss issues related to privacy, security, and intellectual property, as well as social issues, including diversity, equity, and inclusion, codes of ethics, and codes of conduct.
About the Authors
SULIMAN HAWAMDEH is a Regents Professor in the Department of Information Science, University of North Texas. He is the founding editor-in-chief of the Journal of Information and Knowledge Management and the editor of the book series Innovation of Knowledge Management.
JEONGHYUN KIM is an Associate Professor in the Department of Information Science, University of North Texas. She has served as an editor-in-chief for The Electronic Library.
XIN WANG is a Senior Lecturer in the Department of Information Science at the University of North Texas.