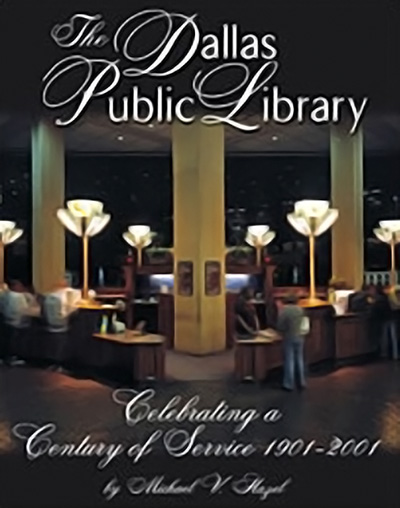 The Dallas Public Library: Celebrating a Century of Service, 1901-2001
200 photos. 10 color plates. Notes. Index.
Features
About Hazel's The Dallas Public Library
From its founding one hundred years ago by a group of dedicated women working to better life and opportunity in their fledgling metropolis, the Dallas Public Library has provided essential services to the people of Dallas. In The Dallas Public Library, Michael V. Hazel presents the centennial history of this landmark institution, from its genesis as a single library with a staff of five, to a central library and twenty-two branch libraries with a staff of more than five hundred.
This is the story of committed leaders like May Dickson Exall, who persuaded Andrew Carnegie to give $50,000 to build Dallas' first free public library, and director Cleora Clanton, who stretched a shoestring budget to provide service to all citizens of Dallas at a time when minorities were often shunned and intellectual freedom challenged. It is also the story of beloved director Lillian Bradshaw, who built a major central library facility and a network of branches that reflect the interests of the neighborhoods they serve.
More than just a repository of books, the Dallas Public Library has offered many people a place for lifelong learning, practical skills development, pursuit of personal interests, and recreation. Through the years, the library has grown and changed with the city of Dallas and is ready once again—as technology drives the information market—to adapt its services to meet the needs of Dallas citizens.
Richly illustrated with two hundred black-and-white photographs and ten color plates, The Dallas Public Library will be of interest to urban historians, students of women's history, librarians, those who love good books and reading, and the citizens of Dallas who know and love the library.
"Probably no institution in the city touches the lives of the citizens at more points than the public library." —Cleora Clanton, director of the Dallas Public Library from 1922 to 1954
About the Author
MICHAEL V. HAZEL is a native Dallasite and fifth-generation Texan. He has been an adjunct professor in history at both Southern Methodist University and the University of North Texas. Hazel has served as interim director of both the Dallas Historical Society and the Dallas County Heritage Society. Since 1989 he has edited a semiannual regional history journal, Legacies, focusing on Dallas and North Central Texas. He is the author of Dallas: A History of Big D and Dallas: A Dynamic Century, as well as editor of Dallas Reconsidered and Stanley Marcus from A to Z, the latter published by the University of North Texas Press.
MICHAEL V. HAZEL is editor of Legacies, has written or edited several books, and is an adjunct professor of history at Southern Methodist University and the University of North Texas.