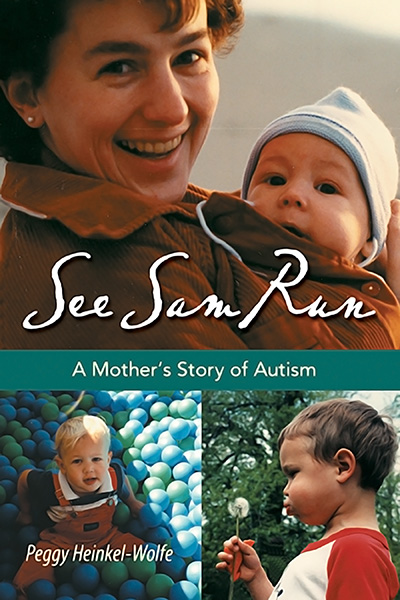 See Sam Run: A Mother's Story of Autism
Mayborn Literary Nonfiction Conference Book Manuscript Competition
22 b&w illus. Bib.
Features
About Heinkel-Wolfe's See Sam Run
Thousands of children are diagnosed with autism each year, with a rate of occurrence of 1 in 150 births, compared to 5 per 10,000 just two decades ago. This astounding escalation has professionals scrambling to explain why the devastating neurological disorder, which profoundly affects a person's language and social development, is on the rise. Are we simply getting better at diagnosing autism, or is a modern health crisis unfolding before us?
Of course, behind the numbers, the debate, and the speculation, individual families are struggling to live with autism every day. Some parents have described autism's onset as being like a cloud slowly descending over their child, until the family is finally smothered by despair. Parents wake up each morning challenged yet again to reconcile the Spartan social world of their son or daughter with their own. After months and even years, most families are able to find a new kind of normal. Others never do.
In See Sam Run, award-winning writer and journalist Peggy Heinkel-Wolfe describes how her parenthood quickly descended into chaos as her son, Sam, became uncommunicative and unmanageable. "I'd grown to hate making entries in his baby book," she writes. "The energy I had before he was born, when I wrote paragraphs anticipating his arrival, was gone now. Writing down Sam's barest achievements felt fraudulent." Little by little, she found a new truth: that by learning to understand the ugliness inside herself, she learned to love her new life and her son, and to harness, at last, the energy needed to realize Sam's fullest potential.
See Sam Run reaches deep into the heart of anyone whose life has been touched by developmental disability—and it will resonate profoundly with those who have been transformed by a newfound ability to love.
"This is a book written from the heart by a mother nearly driven to madness by her son's maniacal behavior. But she slowly learns how to pay attention to what makes Sam tick, what makes Sam run. And as her journey of discovering what ails Sam unfolds, many parents will find themselves hooked." —George Getschow, Writer-in-Residence, Mayborn Graduate Institute of Journalism at the University of North Texas
"See Sam Run is well written and poignant as well as emotionally satisfying for the reader. The author's narrative voice is strong, intelligent and authentic. Her story is one that is important to get out." —Dianne Aprile, Spalding University
About the Author
PEGGY HEINKEL-WOLFE received a master's degree in journalism from the University of North Texas. She was among the first members of Families for Early Autism Treatment (FEAT) in California. Following the death of an autistic teenager shot by a police officer, Heinkel-Wolfe helped researchers at the University of North Texas find funding for autism research, including a grant for a police training program now used by police departments across the nation. She lives in Argyle, Texas, with her son, Sam, and her two other children, Michael and Paige.