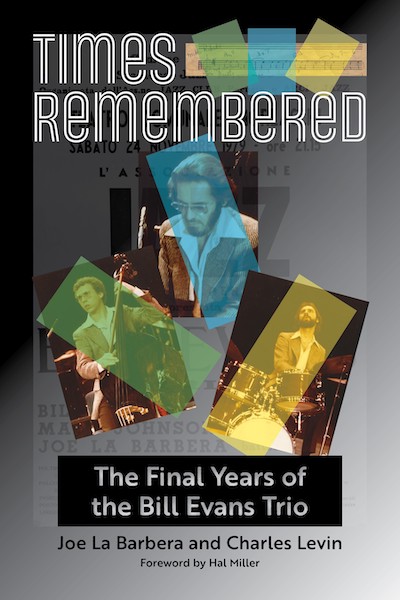 Times Remembered: The Final Years of the Bill Evans Trio
September, 2021
Published
35 b&w illus. Notes. Bib. Index.
Features
About La Barbera and Levin's Times Remembered
Read Joe La Barbera's interview with Bob Hecht for Jerry Jazz Musician.
In the late 1970s legendary pianist Bill Evans was at the peak of his career. He revolutionized the jazz trio (bass, piano, drums) by giving each part equal emphasis in what jazz historian Ted Gioia called a "telepathic level" of interplay. It was an ideal opportunity for a sideman, and after auditioning in 1978, Joe La Barbera was ecstatic when he was offered the drum chair, completing the trio with Evans and bassist Marc Johnson.
In Times Remembered, La Barbera and co-author Charles Levin provide an intimate fly-on-the-wall peek into Evans's life, critical recording sessions, and behind-the-scenes anecdotes of life on the road. Joe regales the trio's magical connection, a group that quickly gelled to play music on the deepest and purest level imaginable. He also watches his dream gig disappear, a casualty of Evans's historical drug abuse when the pianist dies in a New York hospital emergency room in 1980. But La Barbera tells this story with love and respect, free of judgment, showing Evans's humanity and uncanny ability to transcend physical weakness and deliver first-rate performances at nearly every show.
About the Authors
JOE LA BARBERA has performed with world-class jazz artists including Bill Evans, Woody Herman, Chuck Mangione, Michael Brecker and Toots Thielemans. From 1993 until 2021 he was on the faculty of the California Institute of the Arts. He resides in Woodland Hills, California.
CHARLES LEVIN has written for the Ventura County Star, DownBeat, Jazziz, and the Monterey Jazz Festival Program. He has a BFA and MFA from the California Institute of the Arts and played drums professionally for thirty years. He lives in Ventura, California.