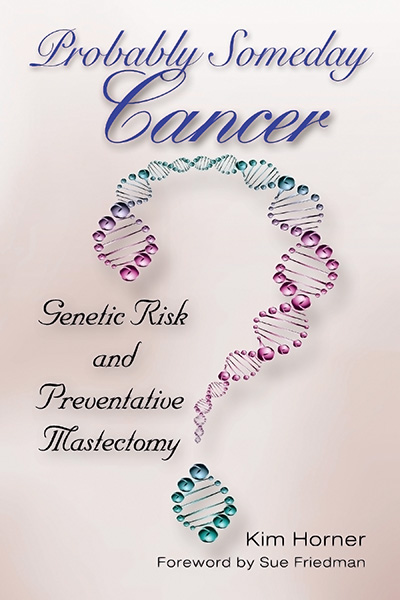 Probably Someday Cancer: Genetic Risk and Preventative Mastectomy
Contributors: Foreword by Sue Friedman
Foreword Reviews 2019 INDIEFAB Book of the Year Award Winner in Health
10 b&w illus. Notes. Bib.
Features
About Horner's Probably Someday Cancer
Listen to Kim Horner's interview on KERA's Think with Krys Boyd.
---
After learning that she inherited a BRCA2 genetic mutation that put her at high risk for breast and ovarian cancer, Kim Horner's doctors urged her to consider having a double mastectomy. But how do you decide whether to have a surgery to remove your breasts to reduce your risk for a disease you don't have and may never get?
Horner shares her struggle to answer that question in Probably Someday Cancer. The mother of a one-year-old boy, she wanted to do whatever would give her the best odds of being around for her son and protect her from breast cancer, which killed her grandmother and great-grandmother in their 40s. Which would give her the best chance at a long healthy life: a double mastectomy or frequent screenings to try to catch any cancer early? The answers weren't that simple.
Based on extensive research, interviews, and personal experience, Horner writes about how and why she ultimately opted for a double mastectomy—the same decision actress Angelina Jolie made for a similar genetic mutation—and the surprising diagnosis that followed. The book explores difficult truths that get overshadowed by upbeat messages about early detection and survivorship—the fact that screenings can miss cancers and that even early-stage breast cancers can spread and become fatal.
Probably Someday Cancer is about the author's efforts to push past her fear and anxiety. This book can help anyone facing hereditary risk of breast and ovarian cancer feel less alone and make informed decisions to protect their health and end the devastation that hereditary cancer has caused for generations in so many families.
"With the ease and comfort of a trusted friend, Kim Horner expertly takes you through her personal journey, sharing her thoughts and evolution around the difficult decisions that she had to make about genetic counseling, testing, and risk management. This is a moving and candid memoir." —–Sue Friedman, Executive Director of FORCE
About the Author
KIM HORNER worked as a journalist for 21 years at newspapers including The Dallas Morning News. She received a Rosalynn Carter Fellowship for Mental Health Journalism and awards from the Texas Medical Association and Public Health Association for her coverage of the increased use of genetic testing for breast cancer risk. She lives in Richardson, Texas.