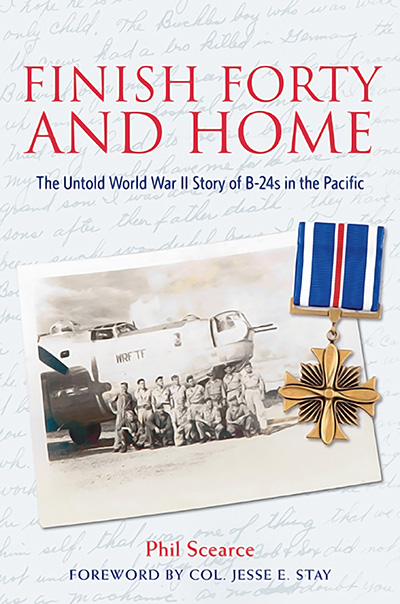 Finish Forty and Home: The Untold World War II Story of B-24s in the Pacific
Contributors: Foreword by Col. Jesse E. Stay
Main Selection of the History/Military Book Club, 2011

Selected for "Best of the Best" from University Presses, ALA Annual Conference, 2012

Mayborn Literary Nonfiction Conference Book Manuscript Competition
39 b&w photos. 1 map. Notes. Bib. Index.
Features
About Scearce's Finish Forty and Home
Finish Forty and Home was selected as a title within the Best of the Best from University Presses 2012 program and presented at the annual American Library Association conference. You can view the C-SPAN BookTV video of the program featuring this title (at the 1:02:45 hour mark for a seven-minute discussion).
During the early years of World War II in the Pacific theatre, against overwhelming odds, young American airmen flew the longest and most perilous bombing missions of the war. They faced determined Japanese fighters without fighter escort, relentless anti-aircraft fire with no deviations from target, and thousands of miles of over-water flying with no alternative landing sites.
Finish Forty and Home, by Phil Scearce, is the true story of the men and missions of the 11th Bombardment Group as it fought alone and unheralded in the South Central Pacific, while America had its eyes on the war in Europe. The book opens with Sgt. Herman Scearce, the author's father, lying about his age to join the Army Air Corps at 16. The narrative follows Scearce through training and into combat with his new crewmates, including pilot Lt. Joe Deasy, whose last-minute transfer from training duty thrusts the new crew into the squadron commander's role. Inexperienced crews are pressed into combat with navigational training inadequate for the great distances flown over Pacific routes, and losses mount.
Complete Phil Scearce Interview from Mayborn School of Journalism on Vimeo.
Finish Forty and Home takes the reader into combat with B-24 Liberator bomber crews facing the perils of long missions against tiny Japanese-held island targets. After new crews assembled into a squadron on Hawaii, they are sent on a mission to bomb Nauru. Soon the squadron moves on to bomb Wake Island, Tarawa, and finally Iwo Jima. These missions bring American forces closer and closer to the Japanese home islands and precede the critical American invasions of Tarawa and Iwo Jima. The 42nd Squadron's losses through 1943 were staggering: 50 out of 110 airmen killed.
Phil Scearce explores the context of the war and sets the stage for these daring missions, revealing the motivations of the men who flew them: to finish forty combat missions and make it home again. He based his story upon substantial research at the Air Force Historical Research Agency and the National Archives, interviews with surviving airmen, and interviews and correspondence with the survivors of men who were lost. His is the first book to document America's bomber offensive in the early days of the Pacific War.
"Phil Scearce's Finish Forty and Home is a triumph of intimate history, following the author's seventeen-year-old airman father as he goes to war in a forgotten but fiercely contested corner of World War II. Through meticulous research and lyrical prose, Scearce captures the grim grind of the Pacific war, life and death in a battered bomb squadron, and the tumultuous experiences of a B-24 radioman and his crew. Finish Forty and Home is a treasure: poignant, thrilling, and illuminating." —Laura Hillenbrand, best-selling author of Unbroken and Seabiscuit
"This book will help those who wish to gain a real insight to the personal and human aspects of the air war over the Pacific. Sgt. Scearce's story will surprise no one who was there, and everyone who was not." —Dr. James A. Mowbray, Professor of Strategy, Doctrine, and Airpower, Air War College, Maxwell Air Force Base
"Scearce does a very good job of depicting the helter skelter of air combat or the sometimes prolonged fight to keep an aircraft in flight. The thing that comes across most clearly–a point essential to understanding the experience of fighting in World War II–is that the war was not a series of battles (they were highpoints) but an endless process of violence that extracted physical and psychological damage like a kind of water torture. There were so many different ways to die. Consequently, life was cheap." —Eric M. Bergerud, author of Fire in the Sky: The Air War in the South Pacific and Touched with Fire: The Land War in the South Pacific
"This history brings back memories of the dear friends who gave their lives in this war and is a tribute to them and to all those, like Sergeant Herman Scearce, who laid their lives on the line and were blessed to survive. It is a comfort to know that this record has been written in remembrance of these patriots and of this part of our war in the Pacific." —Colonel Jesse E. Stay, U.S. Air Force (ret)
"Powerful and moving." —World War II Magazine
"This is the rare volume filling in a glaring gap in American combat aviation history… . The author strongly relates in the words and memories of the participants the gut-wrenching sense of loss and the frustration over the slow mission counts… . The author, through his extensive work in tracking down and interviewing those who trained and flew with his father—his commanders, pilots, fellow crewmen, ground personnel—has delivered a work of art, as well as a strong commemoration… . Highly recommended." —The Journal of America's Military Past
About the Author
PHIL SCEARCE is the son of Sgt. Herman Scearce, a World War II Pacific War veteran. Phil grew up listening to his dad's war memories, and realized this was a story that had not been told. Phil is a graduate of the University of North Carolina at Chapel Hill and a 2009 graduate of the Middle Tennessee State University Writer's Loft Program. He is a member of the Tennessee Writer's Alliance and his writing has appeared in The Tennessee Writer and other publications. Phil resides in Murfreesboro, Tennessee. When not writing, he works in insurance and enjoys spending time with his wife, two children, and five cats.