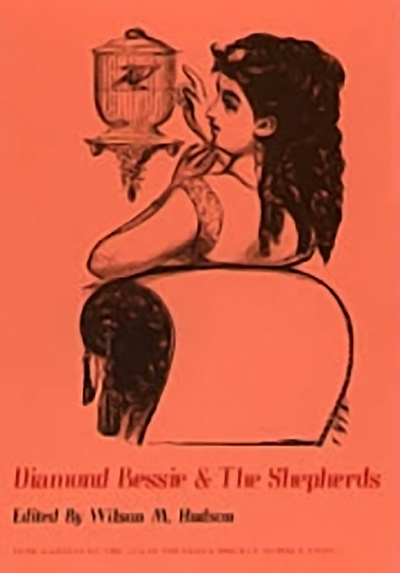 Diamond Bessie & The Shepherds
6 b&w photos. Index.
Features
About Hudson's Diamond Bessie & The Shepherds
Diamond Bessie & The Shepherds is now available as a free e-book at the UNT Digital Library and The Portal to Texas History.
In the 1860s and 1870s, luxury river boats brought U. S. Presidents Ulysses S. Grant and Rutherford B. Hayes; financier Jay Gould; writers Oscar Wilde and Walt Whitman; and actor Maurice Barrymore, the father of John, Ethel, and Lionel, to "Queen City of the Cypress"—Jefferson, Texas. Among lesser known visitors was Abe Rothschild and his apparent bride, Bessie, dressed in fashionable clothes and wearing many diamonds. The couple went to an unusual midwinter picnic in the woods, and two weeks later the body of Bessie was found in the woods shot through the head. From the three trials that followed came a folk drama, "The Diamond Bessie Murder Trial" presented annually in Jefferson as part of a historical pilgrimage.
Los Pastores, (The Shepherds), is a shepherd's play having to do with the epiphany of the Christ child, arises from a tradition reaching back to the Middle Ages. The Pastores tradition is oral, either created or creatively adapted by the Franciscans in Mexico, and performed at Mission San Jose in San Antonio and elsewhere in the Southwest between Christmas and New Year's.
In addition to the exploration of these two plays, this folklore miscellany contains essays on the decoration of graves in Central Texas with sea shells; camp meetings with vigorous preaching and religious seizures; Black Easter—April 14, 1935—during the Dust Bowl, when the people of the Texas Panhandle watched a rolling black cloudbank bearing down on them; Semaña Santa (Holy Week) in Seville, Spain; marriage customs in Thessaly and Macedonia; the Johannesburg mine dances, and much more.
Hardcover–158 pages (October 1998) from Amazon.
About the Editor
From 1951 to 1971 WILSON HUDSON edited or assisted in editing the Texas Folklore Society publications and was secretary/editor from 1964 to 1971. He taught at the University of Texas at Austin.