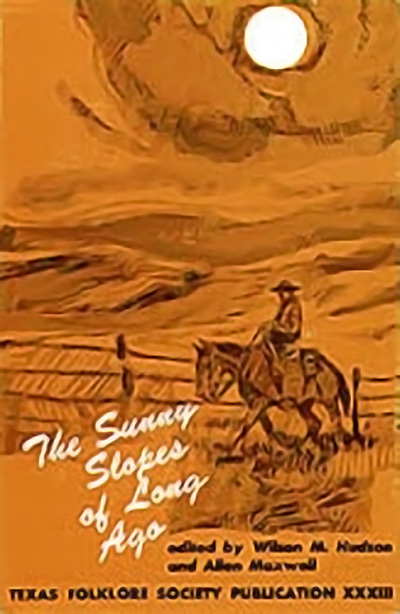 The Sunny Slopes of Long Ago
9 b&w photos. Index.
Features
About Hudson and Maxwell's The Sunny Slopes of Long Ago
The Sunny Slopes of Long Ago is now available as a free e-book at the UNT Digital Library and The Portal to Texas History.
"Here's to the sunny slopes of long ago," was the favorite toast of John A. Lomax, co-founder of the Texas Folklore Society, which lends its name to this volume which opens with J. Frank Dobie's sketch of Lomax. It is followed by Lomax's own "Cowboy Lingo," found among Dobie's papers, and by two other articles on the cowboy by men whose names sound out in the history of southwestern writing." —Eugene Manlove Rhodes and Andy Adams
The theme of the cowboy and the West is further pursued in "The Cowboy Code" by Paul Patterson, "The Cowboy Enters the Movies" by Mody Boatright, "Billy the Kid, Hired Gun or Hero" by John O. West, and "Laureates of the Western Range" by Everett A. Gillis. Next comes William D. Wittliff's collection of passages on folklore from Dobie's writings.
The second half of the volume includes the history of two folktales, a strange religious sect, tales of East Texas fox hunts, an old-time charcoal burner, poke sallet, and folksongs, among others. Includes a special portfolio of J. Frank Dobie photographs.
About the Editor
From 1951 to 1971 WILSON HUDSON edited or assisted in editing the Texas Folklore Society publications and was secretary/editor from 1964 to 1971. He taught at the University of Texas at Austin.