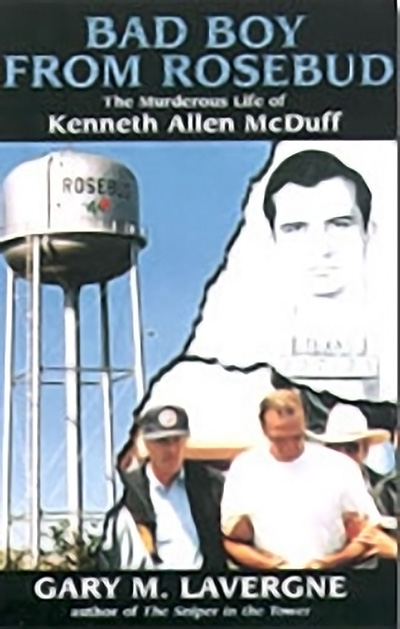 Bad Boy from Rosebud: The Murderous Life of Kenneth Allen McDuff
63 b&w photos. Notes. Bib. Index.
Features
About Lavergne's Bad Boy from Rosebud
In October of 1989, the State of Texas set Kenneth Allen McDuff, the Broomstick Murderer, free on parole. By choosing to murder again, McDuff became the architect of an extraordinarily intolerant atmosphere in Texas. The spasm of prison construction and parole reforms—collectively called the "McDuff Rules"—resulted from an enormous display of anger vented towards a system that allowed McDuff to kill, and kill again. Bad Boy from Rosebud is a chilling account of the life of one of the most heartless and brutal serial killers in American history. Gary M. Lavergne goes beyond horror into an analysis of the unbelievable subculture in which McDuff lived. Equally compelling are the lives of remarkable law enforcement officers determined to bring McDuff to justice, and their seven-year search for his victims.
"Texas still feels the pain inflicted by Kenneth Allen McDuff, despite the relentless efforts of law enforcement officials to solve his crimes and bind up its wounds. Bad Boy from Rosebud is an impeccably researched, compellingly detailed account of the crimes and the long search for justice. Gary Lavergne takes us directly to the scenes of the crimes, deep inside the mind of a killer, and in the process learns not only whom McDuff killed and how—but why. This is classic crime reporting." —Dan Rather, CBS News
"Gary Lavergne succeeds in giving us an inside look at one of the most savage killers in our history, and at the same time exposes the failure of our criminal justice system." —Gary Cartwright, Texas Monthly
"May make even the most hardened true-crime fans sweat. A must for aficionados of the grisly and a thrill ride to hell for more casual crime fans." —Booklist
About the Author
GARY M. LAVERGNE is Director of Admissions Research at the University of Texas at Austin. He is the author of A Sniper in the Tower: The Charles Whitman Murders and [Worse Than Death: The Dallas Nightclub Murders and the Texas Multiple Murder Law][], both published by the University of North Texas Press.
For more information on these books and the author, please visit Gary Lavergne's web site at [www.garylavergne.com][].
[Worse Than Death: The Dallas Nightclub Murders and the Texas Multiple Murder Law]: /catalog/3211 [www.garylavergne.com]: http://www.garylavergne.com/