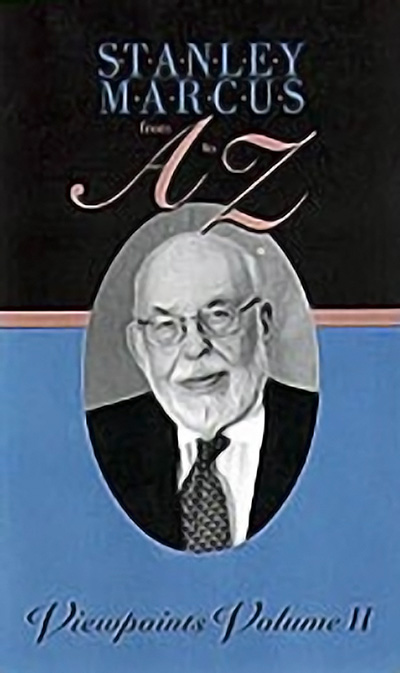 Stanley Marcus from A to Z: Viewpoints Volume II
Index for Volume I & II.
Features
About Marcus and Hazel's Stanley Marcus from A to Z
More gems of wisdom and wit from Stanley Marcus, acknowledged harbinger of taste whose very name is a symbol of quality. Marcus lets his mind roam through subjects as diverse as dieting, gardening, nonconformists, phobias, sports, toys and weather.
What the reviewers had to say about the Viewpoints of Stanley Marcus: A Ten-Year Perspective:
"Stanley Marcus is a salesman. One of the more delightful essays in this book is his 'The Lost Art of Salesmanship.' He is not dogmatic, but he is definite. That alone puts him in a higher category than most essayists… But Mr. Stanley is also a good writer… Ideas are what Stanley Marcus projects over and over in this book. Read carefully, these essays will teach even a mediocre professor to become more effective." —East Texas Historical Association
"These pieces emphasize the merchandizing skills Marcus has honed… other articles offer his opinion… on the importance of education, his dislike of cocktail parties, the problems of aging, his hobbies of publishing miniature books and art collection, and business management." —Publishers Weekly
"This book provides clues to the Marcus of this collection, a practical, intelligent, charming, eclectic man whose eightieth birthday present was the opportunity to be the ringmaster and a clown for a day in the Ringling Brothers and Barnum and Bailey Circus at Madison Square Garden in New York City." —Writers at Work
"I would not be surprised if Mr. Marcus also writes music. His columns are presented in the classical sonata form—statement of theme, development, recapitulation and coda. The style is grammatically but not painfully immaculate, genial but not informal, often witty and always carrying a faint reserve. It is a wise book in casual clothing." —Dallas Morning News
About the Author
STANLEY MARCUS, Chairman Emeritus of the Neiman Marcus stores, received a B.A. degree from Harvard University and also attended Harvard Business School. A noted lecturer who published fine press miniature books out of The Somesuch Press, he wrote Minding the Store, Viewpoints of Stanley Marcus, and Stanley Marcus from A to Z all from the University of North Texas Press.
About the Editor
MICHAEL V. HAZEL is a native Dallasite and fifth-generation Texan. He has been an adjunct professor in history at both Southern Methodist University and the University of North Texas. Hazel has served as interim director of both the Dallas Historical Society and the Dallas County Heritage Society. Since 1989 he has edited a semiannual regional history journal, Legacies, focusing on Dallas and North Central Texas. He is the author of Dallas: A History of Big D and Dallas: A Dynamic Century, as well as editor of Dallas Reconsidered and Stanley Marcus from A to Z, the latter published by the University of North Texas Press.
MICHAEL V. HAZEL is editor of Legacies, has written or edited several books, and is an adjunct professor of history at Southern Methodist University and the University of North Texas.