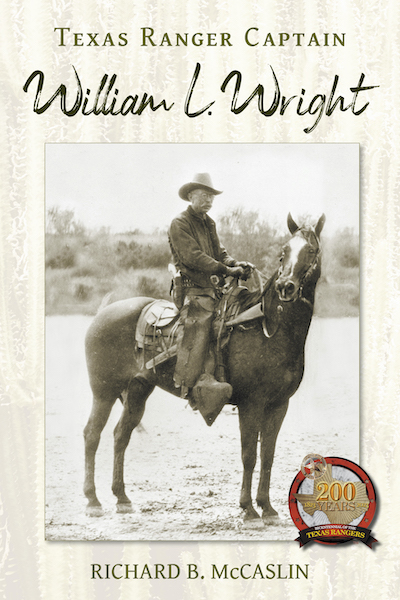 Texas Ranger Captain William L. Wright
September, 2021
Published
32 b&w illus. 3 maps. Notes. Bib. Index.
Features
About McCaslin's Texas Ranger Captain William L. Wright
William L. Wright (1868–1942) was born to be a Texas Ranger, and hard work made him a great one. Wright tried working as a cowboy and farmer, but it did not suit him. Instead, he became a deputy sheriff and then a Ranger in 1899, battling a mob in the Laredo Smallpox Riot, policing both sides in the Reese-Townsend Feud, and winning a gunfight at Cotulla.
His need for a better salary led him to leave the Rangers and become a sheriff. He stayed in that office longer than any of his predecessors in Wilson County, keeping the peace during the so-called Bandit Wars, investigating numerous violent crimes, and surviving being stabbed on the gallows by the man he was hanging. When demands for Ranger reform peaked, he was appointed as a captain and served for most of the next twenty years, retiring in 1939 after commanding dozens of Rangers.
Wright emerged unscathed from the Canales investigation, enforced Prohibition in South Texas, and policed oil towns in West Texas, as well as tackling many other legal problems. When he retired, he was the only Ranger in service who had worked under seven governors. Wright has also been honored as an inductee into the Texas Ranger Hall of Fame at Waco.
About the Author
RICHARD B. McCASLIN, TSHA Endowed Professor of Texas History at the University of North Texas, is the author of Tainted Breeze: The Great Hanging at Gainesville, Texas, October 1862; Lee in the Shadow of Washington; and Fighting Stock: John S. "Rip" Ford in Texas.