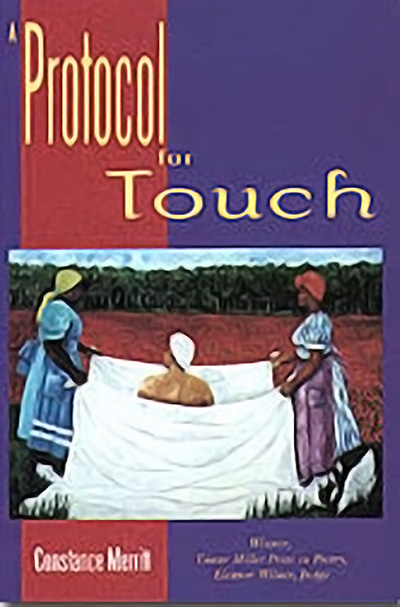 A Protocol for Touch
Contributors: Eleanor Wilner, judge Scott Cairns, Series Editor
Poetry Society of America William Carlos Williams Book Award, runner-up, 2001

Winner of the Vassar Miller Prize in Poetry, 1999
Recommended Text
Ideal for Classrooms
About Merritt's A Protocol for Touch
"Constance Merritt is a poet to defeat categories, to oppose 'the tyranny of names' with a poetry that sets its own terms of encounter, its 'protocols of touch'—tender and austere, formal and intimate at once. Hers is a voice with many musics, sufficiently rich, nuanced and various to express, maintain poise and wrest meaning from the powerful cross-currents in which the heart is torn. I have seldom seen intelligence equal to such a scorching degree of intensity, or mastery of form so equal to passion's contradictory occasions. Merritt's prosodic range is prodigious—she moves in poetic forms as naturally as a body moves in its skin, even as her lines ring with the cadenced authority of a gifted and schooled ear. Here, in her words, the iambic ground bass is in its vital questioning mode: "The heart's insistent undersong: how live?/how live? How live?" this poetry serves no lesser necessity than to ask that." —Eleanor Wilner
Between us, how we wrestle over words
Strain to wring some blessing from the silence,
Deliverance from violence, its fear, its lure,
The tyranny of names: night day,
Sable and alabaster, flint shale,
Steel and lace. Who among us can afford
To speak the language—any language—rightly?
As if it weren't enough to bear one heart
Eternally divided in its chambers?
We stand close enough to touch. We do
Not touch. Between us burns a sword of fire,
A rusted turnstile glinting in the sun.
Classroom Adoption
A Protocol for Touch is a recommended text for use in classrooms where the following subjects are being studied: Creative Writing, Literature, and Poetry.
Eleanor Wilner described Merritt, recipient of the Vassar Miller Prize in Poetry, as having "a voice with many musics, sufficiently rich, nuanced and various to express, maintain poise and wrest meaning from the powerful cross-currents in which the heart is torn. I have seldom seen intelligence equal to such a scorching degree of intensity, or mastery of form so equal to passion's contradictory occasions."
Adopted By
["California State University-San Bernardino for "Intermediate Creative Writing: Poetry"", "University of Nebraska-Lincoln for "Introduction to Literature"", "Xavier University of Louisiana for "Poetry Workshop" and "Introduction to Creative Writing""]
About the Author
Credit for art: "Bathing," by Jonathan Green, used by permission of Norton Museum of Art, West Palm Beach, Florida