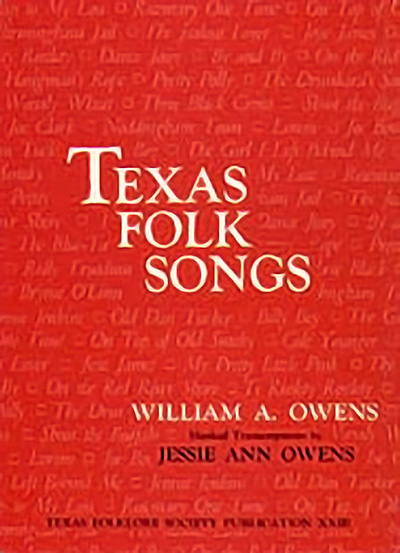 Texas Folk Songs
Contributors: Musical Transcriptions by Jessie Ann Owens
About Owens's Texas Folk Songs
Texas Folk Songs is now available as a free e-book at the UNT Digital Library and The Portal to Texas History.
This volume is, in Owens' words, "a sampling of a rich experience in a richer land." The 135 songs included, a number of them in versions by more than one singer, are divided into nine chapters containing British popular ballads, Anglo-American ballads, Anglo-American love songs, Anglo-American comic songs, songs and games for children, play-party songs and games, Anglo-American spirituals, African-American spirituals, and African-American secular songs. The British ballads were brought to America in the seventeenth century and later were carried westward to Texas by the adventurous pioneers who settled the state.
The American ballad section is full of the stories of battles, crimes, and catastrophes that appealed as subjects to our country's folk singers when they adapted the British ballad traditions to their own use. There is heroism aplenty in these ballads; but when it came to love, the American singers deserted the heroically tragic tales of British balladry for mournful, plaintive songs in which the sad lover has nothing much to do but waste away in sorrow. Songs like these helped Texas pioneer women—and men also—to find release from the sternness of frontier life by "having a good cry." On the other hand, humor, too, helped—raw, rugged, raucous humor, as the section of comic songs demonstrates.
New musical transcriptions of the melodies have been provided by musicologist Jessie Ann Owens from the original recordings, with guitar chords indicated where the singer provided accompaniment. Bibliographical source notes are included for the benefit of the scholar; but this is not a book just for scholars. These songs have been collected, as Owens has written, "for those who love to sing them as well as for those who have an interest in the past."
About the Author
WILLIAM A. OWENS, folklorist, author, and professor, was born in Lamar County. The author of This Stubborn Soil, A Season of Weathering, Tell Me a Story Sing Me a Song, and several novels, he also wrote Slave Mutiny: The Revolt of the Schooner Amistad, which provided much of the material for the Steven Spielberg film, Amistad.