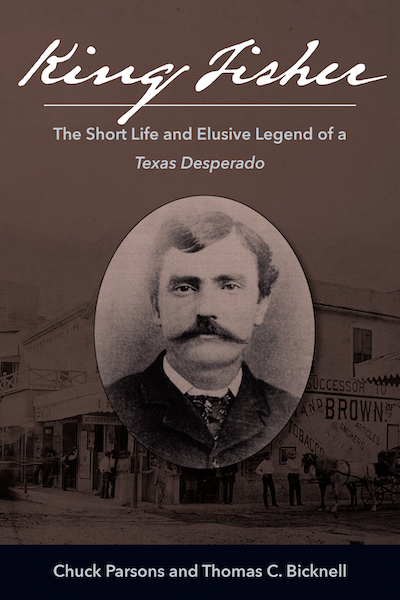 King Fisher: The Short Life and Elusive Career of a Texas Desperado
46 b&w illus. 2 maps. Notes. Bib. Index.
Features
About Parsons and Bicknell's King Fisher
America's Wild West created an untold number of notorious characters, and in southwestern Texas, John King Fisher (1855– 1884) was foremost among them. To friends and foes alike, he insisted he be called "King." He found a home in the tough sun-beaten Nueces Strip, a lawless land between the Nueces River and the Rio Grande. There he gathered a gang of rustlers around him at his ranch on Pendencia Creek. For a decade King and his gang raided both sides of the Rio Grande, shooting down any who opposed them. Newspapers claimed King killed potential witnesses—he was never convicted of cattle or horse stealing, or murder.
King's reign ended when he was arrested by Texas Ranger Captain Leander McNelly. In no uncertain terms he advised Fisher to change his ways, so King became deputy sheriff of Uvalde County. But his hard-won respectability would not last. On a spring night in 1884, King made the mistake of accompanying the truly notorious gambler and gunfighter Ben Thompson on a tour of San Antonio, where several years prior Thompson shot down Jack Harris at the latter's saloon and theater, the Vaudeville. Recklessly, King Fisher accompanied Thompson back to the theater, where assassins were waiting. When the smoke cleared, Fisher was stretched out beside Thompson, dead from thirteen gunshot wounds.
About the Authors
CHUCK PARSONS is the author of Captain John R. Hughes: Lone Star Ranger (winner of the WWHA Best Book Award); The Sutton-Taylor Feud; Captain Jack Helm; John B. Armstrong: Texas Ranger, Pioneer Rancher; and Captain L. H. McNelly. He is also co-author of A Lawless Breed: John Wesley Hardin, Texas Reconstruction, and Violence in the Wild West and Texas Ranger N. O. Reynolds. He lives in Luling, Texas.
THOMAS C. BICKNELL a native Chicagoan, has been studying the life of Ben Thompson for decades. His research and articles have appeared in various periodicals including True West and Wild West.