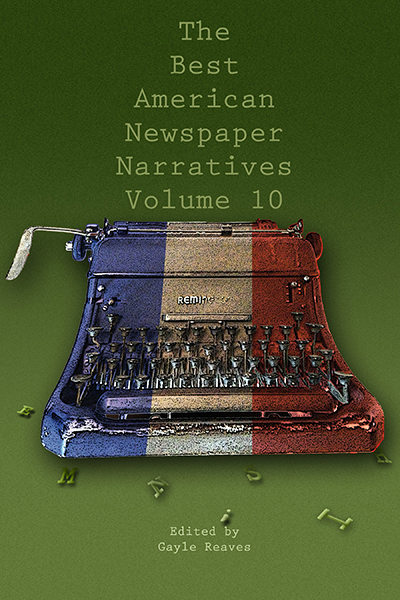 The Best American Newspaper Narratives, Volume 10
September, 2023
Published
About Reaves's The Best American Newspaper Narratives, Volume 10
This anthology collects the ten winners of the 2022 Best American Newspaper Narrative Writing Contest at UNT's Mayborn Literary Nonfiction Conference. First place winner: Jason Fagone, "The Jessica Simulation: Love and Loss in the Age of A.I.," about one man's attempt to still communicate with his dead fiancée (San Francisco Chronicle). Second place: Jenna Russell, Penelope Overton, and David Abel, "The Lobster Trap" (The Boston Globe and Portland Press Herald). Third place: Jada Yuan, "Discovering Dr. Wu" (The Washington Post).
Runners-up include Lane DeGregory, "Who Wants to Be a Cop? (Tampa Bay Times); Christopher Goffard, "The Trials of Frank Carson" (Los Angeles Times); Evan Allen, "Under the Wheel" (The Boston Globe); Mark Johnson, "A Wisconsin Mom Gave Birth in a COVID-19 Coma before Slipping to the Brink of Death" (Milwaukee Journal Sentinel); Annie Gowen, "A Dance, Not a War" (The Washington Post); Peter Jamison, "They'd Battled Addiction Together. Then Lockdowns became a 'Recipe for Death'" (The Washington Post); and Douglas Perry, "The Obsession" (The Oregonian / Oregon Live).
About the Editor
GAYLE REAVES was a projects reporter and assistant city editor for The Dallas Morning News, where she was part of the team that won the 1994 Pulitzer Prize in International Reporting and in 1990, with two colleagues, received the George Polk Award.