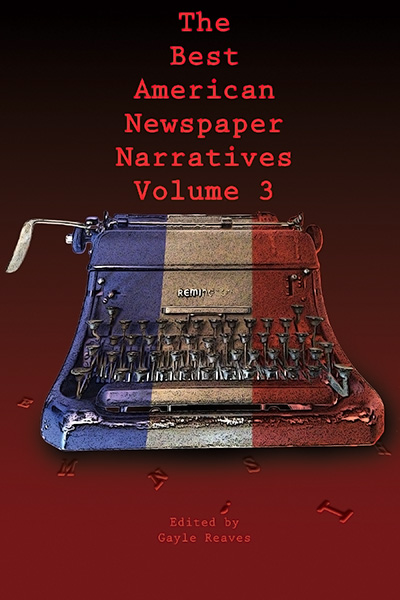 The Best American Newspaper Narratives, Volume 3
About Reaves's The Best American Newspaper Narratives, Volume 3
This anthology collects the ten winners of the 2014 Best American Newspaper Narrative Writing Contest, run by the Mayborn Literary Nonfiction Conference. The event is hosted by the Frank W. Mayborn Graduate Institute of Journalism at the University of North Texas. The contest honors exemplary narrative work and encourages narrative nonfiction storytelling at newspapers across the United States.
First place winner: Dan Barry, "The Boys in the Bunkhouse," published by The New York Times, exposed thirty years of physical and mental abuse of intellectually disabled men living in an Iowa group home.
Second place: Christopher Goffard, "The Favor," published by the Los Angeles Times, describes the plea bargain sentence of the son of a former California assembly speaker, after the son pleaded guilty to voluntary manslaughter, and whose prison sentence was later reduced by then-California Gov. Arnold Schwarzenegger.
Third place: Stephanie McCrummen, "A Father's Scars," published by the Washington Post, about a Virginia state senator one year after he was stabbed multiple times by his mentally ill son before the son killed himself.
Runners-up include Nathan Bomey, John Gallagher and Mark Stryker, "How Detroit was Reborn" (Detroit Free Press); Monica Hesse, "Love and Fire" (Washington Post); Sarah Schweitzer, "Chasing Bayla" (Boston Globe); Sarah Kleiner Varble, "Then the Walls Closed In" (The Virginian Pilot); Joanne Kimberlin and Janie Bryant, "Dangerous Minds" (The Virginian Pilot); Molly Harbarger, "Fred Nelligan" (The Oregonian); and Mark Johnson, "Murray's Problem" (Milwaukee Journal Sentinel).
About the Editor
GAYLE REAVES was a projects reporter and assistant city editor for The Dallas Morning News, where she was part of the team that won the 1994 Pulitzer Prize in International Reporting and in 1990, with two colleagues, received the George Polk Award.