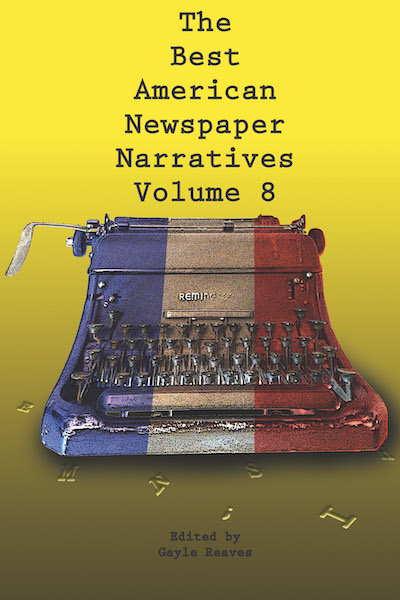 The Best American Newspaper Narratives, Volume 8
About Reaves's The Best American Newspaper Narratives, Volume 8
This anthology collects the ten winners of the 2020 Best American Newspaper Narrative Writing Contest at UNT's Mayborn Literary Nonfiction Conference. First place winner: Christopher Goffard, "Detective Trapp" (Los Angeles Times) is about a complicated murder investigation and its human impact. Second place: Annie Gowen, "Left Behind: American Farm Families in Crisis during Trump's Trade War" (The Washington Post) tells about a despairing farmer's suicide and aftermath. Third place: Jennifer Berry Hawes and Stephen Hobbs, "It's Time for You to Die" (Post & Courier) presents a gut-wrenching drama of America's deadliest episode of prison violence.
Runners-up include Peter Jamison, "The Confession" (The Washington Post); Mark Johnson, "House Calls and Rarest of Diseases" (Milwaukee Journal Sentinel); Nestor Ramos, "At the Edge of a Warming World" (Boston Globe); Noelle Crombie, Kale Williams, and Beth Nakamura, "No Mercy" (The Oregonian); Tara Duggan and Jason Fagone, "The Fisherman's Tale" (San Francisco Chronicle); Jenna Russell, "Brilliant, Faithful, Undaunted" (Boston Globe); and Charles Scudder, "Guardians: When Evil Came Through the Door" (Dallas Morning News).
About the Editor
GAYLE REAVES was a projects reporter and assistant city editor for The Dallas Morning News, where she was part of the team that won the 1994 Pulitzer Prize in International Reporting and in 1990, with two colleagues, received the George Polk Award.