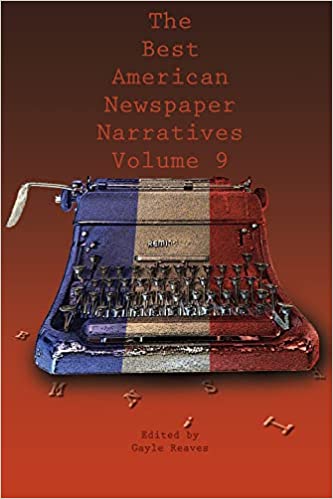 The Best American Newspaper Narratives, Volume 9
September, 2022
Published
About Reaves's The Best American Newspaper Narratives, Volume 9
This anthology collects the nine winners of the 2021 Best American Newspaper Narrative Writing Contest at UNT's Mayborn Literary Nonfiction Conference. First-place winner: Greg Jaffe and his three-part series on the pandemic, beginning with "The Pandemic Hit and This Car Became Home for a Family of Four" (The Washington Post). Second place: Hannah Dreier with "The Worst- Case Scenario" (The Washington Post). Third place: Leonora LaPeter Anton, Kavitha Surana, and Kathryn Varn with "Death at Freedom Square" (Tampa Bay Times).
Runners-up include Rory Linnane, "Maricella's Last Breath" (Milwaukee Journal Sentinel); Hannah Dreier, "Tatiana's Luck" (The Washington Post); Deborah Vankin, "This 81-Year-Old was L.A.'s Most Devoted Museum-Goer until COVID-19" (Los Angeles Times); Lauren Caruba, "Night Shift" (San Antonio Express News); Mark Johnson, "Saving Raynah's Brain" (Milwaukee Journal Sentinel); and John Woodrow Cox, "They Depended on Their Parents for Everything" (The Washington Post).
About the Editor
GAYLE REAVES was a projects reporter and assistant city editor for The Dallas Morning News, where she was part of the team that won the 1994 Pulitzer Prize in International Reporting and in 1990, with two colleagues, received the George Polk Award.