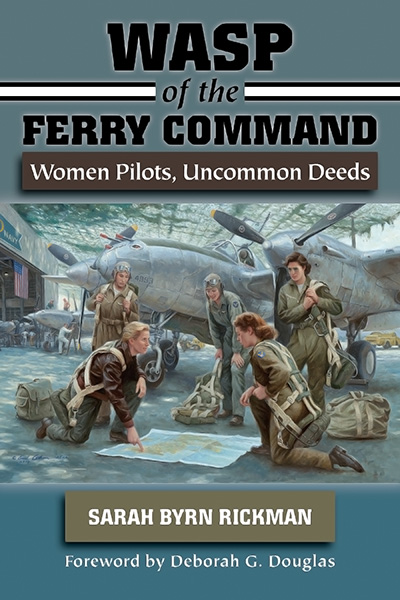 WASP of the Ferry Command: Women Pilots, Uncommon Deeds
Contributors: Foreword by Deborah G. Douglas
47 b&w photos. Notes. Bib. Index.
Features
About Rickman's WASP of the Ferry Command
Listen to Vick Mickunas' interview with Sarah Byrn Rickman, author of WASP of the Ferry Command - Women Pilots, Uncommon Deeds on WSYO's Book Nook.
---
WASP of the Ferry Command is the story of the women ferry pilots who flew more than nine million miles in 72 different aircraft—115,000 pilot hours—for the Ferrying Division, Air Transport Command, during World War II. In the spring of 1942, Col. William H. Tunner lacked sufficient male pilots to move vital trainer aircraft from the factory to the training fields. Nancy Love found 28 experienced women pilots who could do the job. They, along with graduates of the Army's flight training school for women—established by Jacqueline Cochran—performed this duty until fall 1943, when manufacture of trainers ceased.
In December 1943 the women ferry pilots went back to school to learn to fly high-performance WWII fighters, known as pursuits. By January 1944 they began delivering high performance P-51s, 47s, and 39s. Prior to D-Day and beyond, P-51s were crucial to the air war over Germany. They had the range to escort B-17s and B-24s from England to Berlin and back on bombing raids that ultimately brought down the German Reich. Getting those pursuits to the docks in New Jersey for shipment abroad became these women's primary job. Ultimately, more than one hundred WASP pursuit pilots were engaged in this vital movement of aircraft.
"A compelling account of the unorthodox women who brilliantly helped sustain the vital flow of military aircraft around the country at the height of World War II." —Dorothy Cochrane, Curator of the National Air and Space Museum
"[A] thorough, well-researched record of the derring-do and grit of these women in trying wartime conditions… . Rickman relates several gripping stories and gives the reader an appreciation for how hard women had to fight—and still do—to be taken seriously in the military." —History.net
About the Author
SARAH BYRN RICKMAN is the author of an award-winning WASP novel, Flight from Fear; The Originals: The Women's Auxiliary Ferrying Squadron of World War II; and Nancy Love and the WASP Ferry Pilots of World War II (UNT Press). She is the recipient of the Seventh Annual Combs Gates Award by the National Aviation Hall of Fame for her outstanding work on the women pilots of World War II.