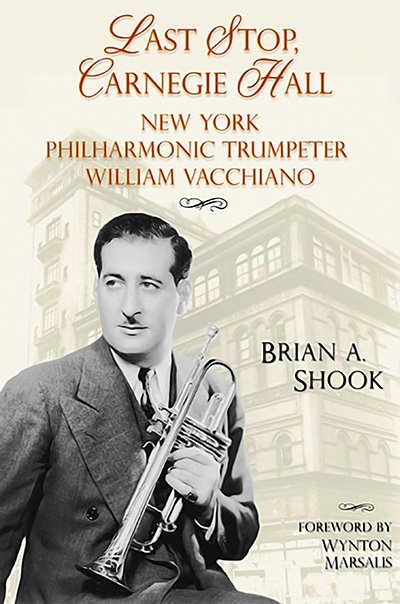 Last Stop, Carnegie Hall: New York Philharmonic Trumpeter William Vacchiano
38 b&w photos. 32 music examples. Notes. Bib. Index.
Features
About Shook's Last Stop, Carnegie Hall
William Vacchiano (1912-2005) was principal trumpet with the New York Philharmonic from 1942 to 1973, and taught at Juilliard, the Manhattan School of Music, the Mannes College of Music, Queens College, and Columbia Teachers College. While at the Philharmonic, Vacchiano performed under the batons of Arturo Toscanini, Bruno Walter, Dimitri Mitropoulos, and Leonard Bernstein and played in the world premieres of almost 200 pieces by such composers as Vaughan Williams, Copland, and Barber. Vacchiano was important not only for his performances, but also for his teaching. His students have held the principal chairs of many major orchestras and are prominent teachers themselves, and they have enriched non-classical music as well. Two of his better known students are Miles Davis and Wynton Marsalis.
Last Stop, Carnegie Hall features an overview of the life of this very private artist, based on several personal interviews conducted by Brian A. Shook and Vacchiano's notes for his own unpublished memoir. Shook also interviewed many of his students and includes a chapter containing their recollections. Other important topics include analyses of Vacchiano's pedagogical methods and his interpretations of important trumpet pieces, his rules of orchestral performance, and his equipment. A discography, a bibliography of Vacchiano's own works, and lists of his students and the conductors and players with whom he performed round out this thorough examination of one of the most influential trumpet players and teachers of the twentieth century.
"I have just finished reading Last Stop, Carnegie Hall and there are still tears in my eyes as I remember my experiences with Bill, tears of joy at reading statements of simple wisdom, musical anecdotes and life lessons; there are as well, tears of happiness that Shook's work introduces the public to a man who affected the musical shape of nearly all the major orchestras in North America, South America, and even Europe." —Ronald Romm, Professor of Trumpet, founding member, Canadian Brass
"The book is rich with stories, musical examples, remembrances, and photographs. It represents the most original research to date on Vacchiano." —Anne Hardin, co-author of Inside John Haynie's Studio
For more information about William Vacchiano, including photos, videos, audio clips, and interviews, visit http://www.williamvacchiano.com.
About the Author
BRIAN SHOOK is assistant professor of music (trumpet) at Lamar University in Beaumont, Texas. From 2004 to 2009, Shook toured the United States with The King's Brass and since 2009 has been principal trumpet of the Symphony of Southeast Texas. Originally from Ohio, Shook received his Bachelor of Music degree from Cedarville University. He continued his studies as a trumpet teaching assistant at Arizona State University, completing a Master of Music degree in 2003 and Doctor of Musical Arts degree in 2006. He lives in Beaumont, Texas.