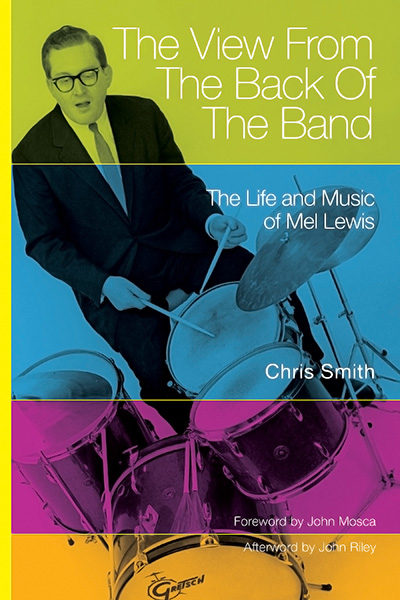 The View from the Back of the Band: The Life and Music of Mel Lewis
Contributors: Foreword by John Mosca, Afterword by John Riley
31 b&w photos. Notes. Bib. Index.
Features
About Smith's The View from the Back of the Band
Mel Lewis (1929-1990) was born Melvin Sokoloff to Jewish Russian immigrants in Buffalo, New York. He first picked up his father's drumsticks at the age of two and at 17 he was a full-time professional musician. The View from the Back of the Band is the first biography of this legendary jazz drummer. For over fifty years, Lewis provided the blueprint for how a drummer could subtly support any musical situation. While he made his name with Stan Kenton and Thad Jones, and with his band at the Village Vanguard, it was the hundreds of recordings that he made as a sideman and his ability to mentor young musicians that truly defined his career.
Away from the drums, Lewis's passionate and outspoken personality made him one of jazz music's greatest characters. It is often through Lewis's own anecdotes, as well as many from the musicians who knew him best, that this book traces the career of one of the world's greatest drummers. Previously unpublished interviews, personal memoirs, photos, musical transcriptions, and a selected discography add to this comprehensive biography.
"Smith did a fine job. The research is meticulous and his insights into the music of Mel Lewis are good ones." —Bruce Klauber, author of World of Gene Krupa: That Legendary Drummin' Man
"This is the best and most complete tracking of Lewis' career." —John Riley, author of The Art of Bop Drumming and holder of Lewis' chair at the Village Vanguard
"[A] superbly engaging portrait of a vibrant musicians's life, passions, and achievements." —Midwest Book Review
"Chris Smith's The View From The Back Of The Band: The Life And Music Of Mel Lewis is a lot like Lewis' celebrated big band drumming—smart, energetic, empathetic, and inclusive… . Smith's impressive skills as a writer, story teller, and jazz scholar make it easy for the casual listener, jazz aficionado, and musician—three of the potential readers to which the author painstakingly builds bridges—to appreciate his account of Lewis' life, music and career… . Interspersed amongst the wealth of biographical detail are explanations of Lewis' unique style—these are of importance to musicians, and not beyond the reach of most laypersons—with an emphasis on his philosophy of drumming and jazz in general. Of interest to all parties is a section of tributes from family and fellow musicians, which makes it clear that Lewis was loved and respected in his lifetime, and that his influence as a musician and a mentor continues to the present day." —All About Jazz
"This wonderful research work illuminates not only the life and work of Mel Lewis, but in doing so uncovers for the reader a treasure trove of great music." —John Mosca, Trombonist and Director of the Vanguard Jazz Orchestra
"Mel's sound and concept were all about the feeling of the music. That was his personal approach, and it was amazing!" –—Joe Lovano, Grammy award winning saxophonist and Blue Note recording artist
"Through exhaustive research and numerous interviews with personal associates of Mel Lewis, Smith has produced the first significant retrospective regarding the life of one the most influential jazz drummers of all time." —Jim White, Drummer and Professor of Jazz Studies University of Northern Colorado
"Mel played with perfect articulation and perfect dynamic support. It's no wonder he was Buddy Rich's favorite big band drummer." —Ed Soph, Drummer and Professor of Jazz Studies University of North Texas
"I don't think Mel ever thought of himself as a drummer, I think he probably thought of himself as just a band member. But as it ended up, he was the band!" –—Marvin Stamm, World-renowned trumpeter and educator
About the Author
CHRIS SMITH was raised in Iowa and began playing the drums at age eight. He holds degrees from Northern Illinois University and Manhattan School of Music, and a doctorate from University of Northern Colorado. He is currently a professional drummer and educator in New York, frequently giving master classes throughout the U.S.