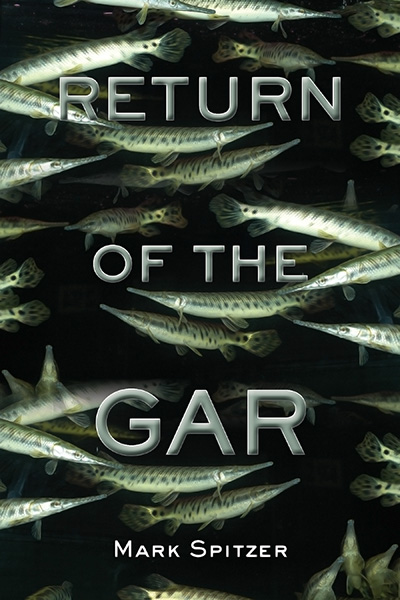 Return of the Gar
61 b&w illus. Bib.
Features
About Spitzer's Return of the Gar
Listen to Return of the Gar featuring Return of the Gar author Mark Spitzer, U.S. Fish and Wildlife Services researcher Lindsey Lewis, and University of Central Arkansas biologist Reid Adams discuss the often misunderstood alligator gar.
​<div class="embed-responsive embed-responsive-16by9">
</div>
The alligator gar belongs to a family of fish that has remained fundamentally unchanged since the Cretaceous, over 100 million years ago. Its intimidating size and plethora of teeth have made it demonized throughout its range in North America, resulting in needless killing. Massive oil spills in its breeding range have not helped its population either. Interspersing science, folklore, history, and action-packed fishing narratives, Spitzer's empathy for and fascination with this air-breathing, armored fish provides for an entertaining odyssey that examines management efforts to preserve and propagate the alligator gar in the United States.
Spitzer also travels to Central America, Thailand, and Mexico to assess the global gar situation. He reflects on what is and isn't working in compromised environments, then makes a case for conservation based on personal experience and a love for wildness for its own sake. This colorful portrait of the alligator gar can serve as a metaphor and measurement for the future of our biodiversity during a time of planetary crisis.
"In Return of the Gar Mark Spitzer is fighting the good fight, teaching us about a fish that's in trouble and explaining to us why we should care—one quirky story at a time." —Zeb Hogan, host of National Geographic's Monster Fish series
"A timely work about an important subject." —Jeremy Wade, host of Animal Planet's River Monsters TV show
"In the tradition of activists who speak up for those without a voice, Spitzer is on a crusade to save the gar. He's also going to have some fun while doing so… . a pleasure to read." —Susan Cohen, co-editor Shorewords: A Collection of American Women's Coastal Writings
"Highly readable, entertaining and engaging… excellent attention to detail." —Solomon R. David, research associate, Shedd Aquarium
About the Author
MARK SPITZER has caught and studied gar all over the planet, leading to an appearance on Animal Planet's River Monsters. He also consulted for National Geographic's Monster Fish episode on the alligator gar. The author of 21 books, including fiction, poetry, translations, and nonfiction, Spitzer is an associate professor of creative writing at the University of Central Arkansas and the editor of Toad Suck Review. He lives in Conway, Arkansas.