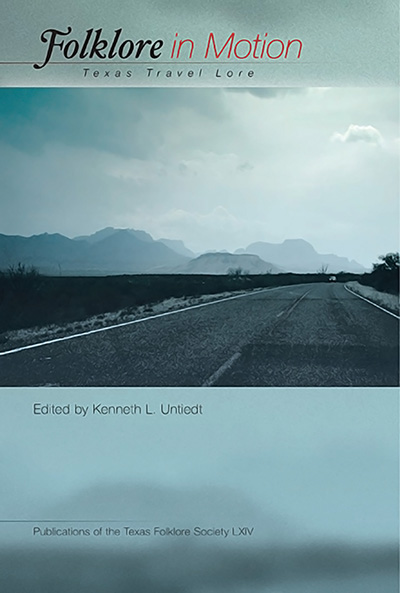 Folklore in Motion: Texas Travel Lore
Open Access(Restricted)
Read Online
About Untiedt's Folklore in Motion
Folklore in Motion: Texas Travel Lore is now available as a free e-book at the UNT Digital Library. Use of this item is restricted to the UNT Community.
The adventurous spirit of Texans has led to much travel lore, from stories of how ancestors first came to the state to reflections of how technology has affected the customs, language, and stories of life on the go.
This Publication of the Texas Folklore Society features articles from beloved storytellers like John O. West, Kenneth W. Davis, and F. E. Abernethy as well as new voices like Janet Simonds. Chapters contain traditional Gone to Texas accounts and articles about people or methods of travel from days gone by. Others are dedicated to trains and cars and the lore associated with two-wheeled machines, machines that fly, and machines that scream across the land at dangerous speeds. The volume concludes with articles that consider how we fuel our machines and ourselves, and the rituals we engage in when were on our way from here to there.
About the Author
KENNETH L. UNTIEDT is the Secretary-Editor of the Texas Folklore Society. He earned his bachelor's, master's, and doctoral degrees from Texas Tech University. He is a professor of English at Stephen F. Austin State University, where he teaches Technical Writing, American literature, and folklore. He and his family live on a farm west of Nacogdoches, Texas.