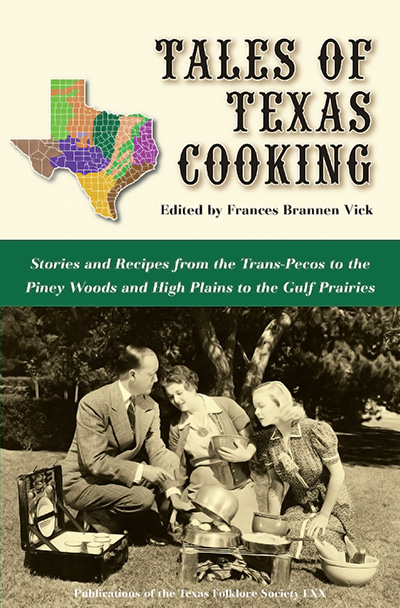 Tales of Texas Cooking: Stories and Recipes from the Trans-Pecos to the Piney Woods and High Plains to the Gulf Prairies
60 b&w illus. Notes. Index.
Features
About Vick's Tales of Texas Cooking
According to Renaissance woman and Pepper Lady Jean Andrews, although food is eaten as a response to hunger, it is much more than filling one's stomach. It also provides emotional fulfillment. This is borne out by the joy many of us feel as a family when we get in the kitchen and cook together and then share in our labors at the dinner table. Food is comfort, yet it is also political and contested because we often are what we eat—meaning what is available and familiar and allowed.
Texas is fortunate in having a bountiful supply of ethnic groups influencing its foodways, and Texas food is the perfect metaphor for the blending of diverse cultures and native resources. Food is a symbol of our success and our communion, and whenever possible, Texans tend to do food in a big way.
This latest publication from the Texas Folklore Society contains stories and more than 120 recipes, from long ago and just yesterday, organized by the 10 vegetation regions of the state. Herein you'll find Senator Kay Bailey Hutchinson's Family Cake, memories of beef jerky and sassafras tea from John Erickson of Hank the Cowdog fame, Sam Houston's barbecue sauce, and stories and recipes from Roy Bedichek, Bob Compton, J. Frank Dobie, Bob Flynn, Jean Flynn, Leon Hale, Elmer Kelton, Gary Lavergne, James Ward Lee, Jane Monday, Joyce Roach, Ellen Temple, Walter Prescott Webb, and Jane Roberts Wood. There is something for the cook as well as for the Texan with a raft of takeaway menus on their refrigerator.
About the Editor
FRANCES BRANNEN VICK is retired director of the University of North Texas Press. In retirement, she has co-authored Petra's Legacy, winner of the Coral Horton Tullis Award for the best book on Texas history and Letters to Alice: Birth of the Kleberg–King Ranch Dynasty; and edited Literary Dallas. She is past president of the Texas Institute of Letters, Texas State Historical Association, The Philosophical Society of Texas, and is a Fellow of the Texas Folklore Society and the Texas State Historical Association. She lives in Dallas.