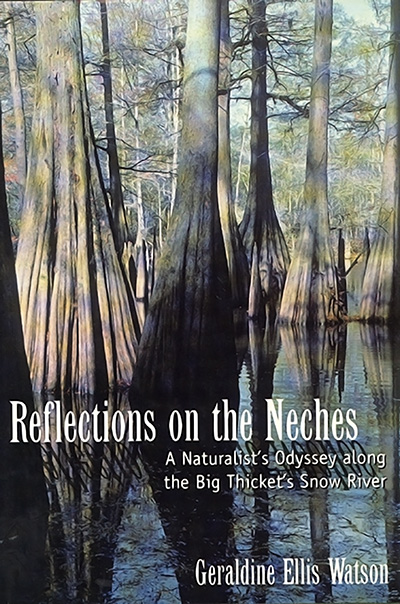 Reflections on the Neches: A Naturalist's Odyssey along the Big Thicket's Snow River
Texas Institute of Letters Carr P. Collins Award, runner-up, 2004
16 b&w photos. 29 line drawings. 20 maps. Index.
Features
About Watson's Reflections on the Neches
New in Paperback: Reflections on the Neches is the story of a sixty-three-year-old woman who builds a backwater boat and journeys down the Neches River in East Texas, telling both the story of her river float trip and the natural history and folklore of the region. The Neches, one of the last "wild" rivers in Texas, is now being subjected to dams. Watson's story captures the wildness of the river and imparts a detailed history of its people and wildlife. Profusely illustrated with maps, drawings, and photographs, it will appeal to all interested in the Big Thicket region and those indulging a feeling of wanderlust—and float trips—down the river.
"Reflections is not a book to skim. It should be absorbed, ideally from a canoe drifting down current in the Snow River. This book is a captivating blend of art and history and biological facts from a writer whose heart and soul has been bound up in the Big Thicket for a long, adventuresome, and sometimes combative lifetime… . You will be riveted by her tales of the fabled Ivory-billed woodpecker." —East Texas Historical Association Journal
"This book makes the Neches River come alive and makes the reader want to find the nearest canoe in order to travel in her footsteps to rediscover the beauty that exists around each river bend… . In addition to the expected exquisitely detailed travelogue, Watson adds her superior observations as a naturalist, sharing geographical, geological, hydrographic and biological information on the Neches, the Big Thicket and Southeast Texas in terms that a layman can understand." —Texas Gulf Historical and Biographical Record
"Like the river, Reflections on the Neches has a natural flow; like the river, it is charming. One is easily drawn into the world of the river, and into the lives of its people." —Pete A. Y. Gunter, author of The Big Thicket and co-editor of The Big Thicket Guidebook
About the Author
GERALDINE ELLIS WATSON was a native of Tyler County and lived on her private nature preserve in East Texas. She was a plant ecologist and park ranger for the National Park Service for fifteen years. She authored Reflections on the Neches, also published by the University of North Texas Press.