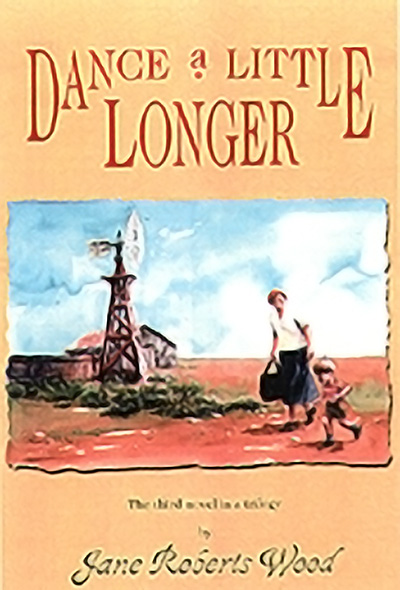 About Wood's Dance a Little Longer
The Lucinda "Lucy" Richards trilogy, spanning the years from 1911 to the 1930s, has everything good books should have: a variety of landscapes, characters of all ages and social classes, an overall tenderness that never lapses into sentimentality, and a sense of the comic amidst the tragic. Lucy is feisty, funny, and completely open-armed about life. Josh passionately confronts danger and greed and prejudice with courage and humor and, sometimes, with bare fists. Even the minor characters are so rife with color that you first turn the pages quickly to see what they will do next and, then, you turn them slowly so as to savor each page of this remarkable trilogy.
Dance a Little Longer:
The year is 1931 and Lucy Richards Arnold—now a mother of a precocious four-year-old son—is in rural West Texas, teaching in the school where her husband, Josh, is principal and struggling to make a success of their farm during the bleak, hard times of the Great Depression. Out of this barren landscape, rich and colorful characters emerge as if from a fertile land. Before the year's end, Lucy is faced with a loss of such magnitude that she must struggle to find a way to recapture the joy in her very existence.
"Wood has a rare gift for transcending the ordinary and this heartwarming continuation of her earlier novels… is no exception… Wood's narration is seamless, and she is especially masterful in creating believable characters, whether they're protagonists or secondary figures… a touching, often humorous novel." —Publishers Weekly
"This is a family to struggle with and hope for, a family that is almost torn apart but manages to pull together… If the families in Miller's Family Pictures and Otto's How to Make an American Quilt touch the readers' hearts, then they will also be moved by Dance a Little Longer." —Library Journal
"Wood is adept at blending family memories and imagination into a fine story. After following them through three books, I'll miss Lucy and Josh." —San Antonio Express-News
"…the best volume in a fine Texas trilogy." —Houston Post
"…cause for celebration among the growing number of fans… the third and final Lucy Richards novel… will not disappoint." —New Orleans Times-Picayune
"A spirited, intelligent rendering of West Texas life in the early part of the century. Wood's particular talent—and her talent appears to be huge—lies in descriptions so rife with color that the reader dreads reaching the novel's end." —The Cape Cod Times
"This one will steal your heart and make you glad to be alive… a thoroughly enjoyable, entirely too brief ride backward in time." —Valley Morning Star
Third novel in a trilogy.
About the Author
JANE ROBERTS WOOD is the award winning author of the Lucy Richards trilogy: The Train to Estelline, A Place Called Sweet Shrub, and Dance a Little Longer, as well as Grace and Roseborough, all published in paperback by UNT Press. Wood is a Fellow of both the National Endowment of the Arts and the National Endowment of the Humanities. She and her husband, J. W. "Dub" Wood, live in the horse country of Argyle, Texas, with their two dogs.