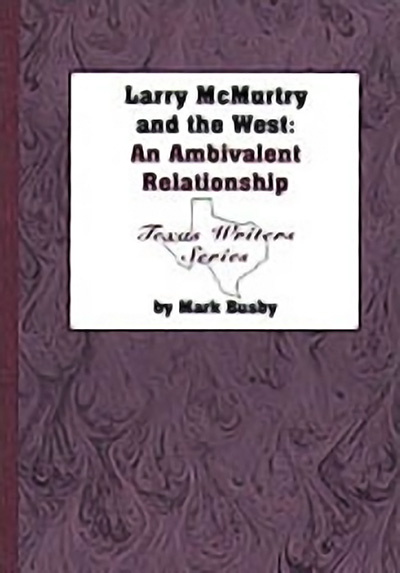 Larry McMurtry and the West: An Ambivalent Relationship
About Busby's Larry McMurtry and the West
"McMurtry has emerged as one of the leading fiction writers of our time, yet there has been little substantive discussion of his work… Here Busby… looks at each of McMurtry's published books, and… discusses screenplays and archival materials… Frequent passages from interviews with McMurtry punctuate the book and add biographical interest… The result is a very useful work." —Choice
"Busby… provides starting points for those who seek to define McMurtry's vision and revision of the myths of the American West." —Southwestern Historical Quarterly
"…an intelligent and useful book." —Houston Chronicle
"…a solidly researched and well written examination of McMurtry's life and work." —Roundup Magazine
This is the first major single-authored book in almost twenty years to examine the life and work of Texas' foremost novelist and to develop coherent patterns of theme, structure, symbol, imagery, and influence in Larry McMurtry's work.
The study focuses on the novelist's relationship to the Southwest, theorizing that his writing exhibits a deep ambivalence toward his home territory. The course of his career demonstrates shifting attitudes that have led him toward, away from, and then back again to his home place and the "cowboy god" that dominates its mythology.
The book utilizes original materials from five library special collections, as well as interviews with McMurtry, his family and his friends such as Ken Kesey.
About the Author
MARK BUSBY is Director of the Center for the Study of the Southwest and Professor of English at Southwest Texas State University. He is the author of books on Ralph Ellison, Lanford Wilson and Preston Jones; the editor of New Growth/2; the co-editor of The Frontier Experience and the American Dream and the journal Southwestern American Literature; a contributing editor of Taking Stock: A Larry McMurtry Casebook.