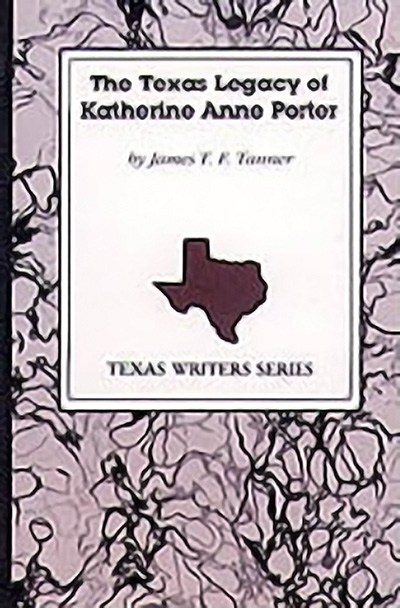 The Texas Legacy of Katherine Anne Porter
About Tanner's The Texas Legacy of Katherine Anne Porter
In this study of Porter's work, Tanner focuses on Porter's denial of her Texas heritage, her apparent urge to distance herself from Texas and all things Texan. He analyzes Porter's settings and characters, emphasizing and clarifying the influence of her Texas upbringing on her creative art, exploring the conflict between the Texas Porter and the urbane-sophisticate Porter.
Born in Indian Creek, Texas, in 1890, Katherine Anne Porter was always a Texas writer, even though she roamed widely, and seemed to represent, for many readers, a more Southern and genteel facet of Texas culture than they were prepared to accept. Tanner deals with Porter as a Texas story-teller, who, her wanderings over the earth notwithstanding, was a Texas writer first and last.
"A helpful bibliography contains separate lists of criticism for several stories, and the index has sections on Porter's characters, works, and themes. Recommended to general readers and to all college-level audiences as a basic introduction to Texas' greatest author." —Choice
"Tanner has given us a first-rate companion, no-nonsense and readable, to Porter's work." —Southwestern Historical Quarterly
"The work… is better grounded than most of the more publicized series… Tanner does provide some new warnings and perspectives. The editors at Denton have a right to be proud of this one." —Western American Literature
"A fascinating study for students, libraries, and those who relish Porter's biting and lovely works." —Books of the Southwest
About the Author
JAMES T. F. TANNER, editor of American Periodicals, teaches English at the University of North Texas. He has published in American literature, with a particular focus on Walt Whitman, and has served as managing editor of Studies in the Novel and as associate chairman of the English Department.