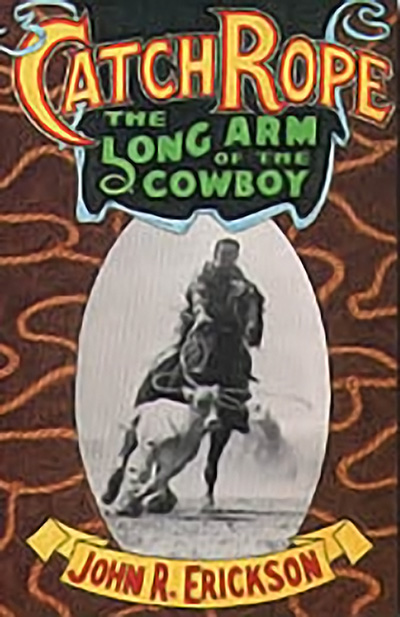 Catch Rope: The Long Arm of the Cowboy
28 b&w photos. 9 line drawings. bib. Index.
Features
About Erickson's Catch Rope
For more than a hundred years, American cowboys have made their living through the skilled use of horse and rope. Whole libraries have been devoted to the horse, but no one, until now, has written a thorough study of the origins and evolution of ranch roping—which differs from arena roping as practiced by rodeo cowboys.
Author/cowboy John Erickson studies ranch roping from every angle: its origins in the Old World; old-time loops and throws; the influence of modern team roping; and the endless debate between those cowboys who rope "hard and fast" and those who "dally."
Mixing scholarship with his working—cowboy's knowledge of the subject, Erickson tells stories of cowboys who could not resist fitting their loops on "things that ort not to be roped," such as elk, deer, badgers, bears, and bobcats. He tells of jackrabbit roping contests, and of cowboys who roped mice, geese, hogs, wives, or a runaway milk wagon.
Anyone who has ever "built a loop" or even thought about it will find this book hard to put down.
"Erickson is a good one to survey the history of ranch roping… and he keeps his sense of humor in play at all times… Filled with photographs of ropers in action… cartoons by the late Ace Reid… this is a terrific book even for the tenderfoot." —Fort Worth Star-Telegram
"…well-written, often humorous… offering a vivid image of a cowboy's life in the modern day. Recommended for all readers." —Roundup, Western Writers of America
Printed on demand.
About the Author
JOHN R. ERICKSON, a fifth-generation Texan, was born and raised in the Texas Panhandle. In 1982 Erickson launched the Hank the Cowdog series, with sales well over seven million copies and counting. He is the author of Prairie Gothic, The Modern Cowboy, Catch Rope, LZ Cowboy, Panhandle Cowboy, Some Babies Grow Up to Be Cowboys, and Friends, all published by the University of North Texas Press.