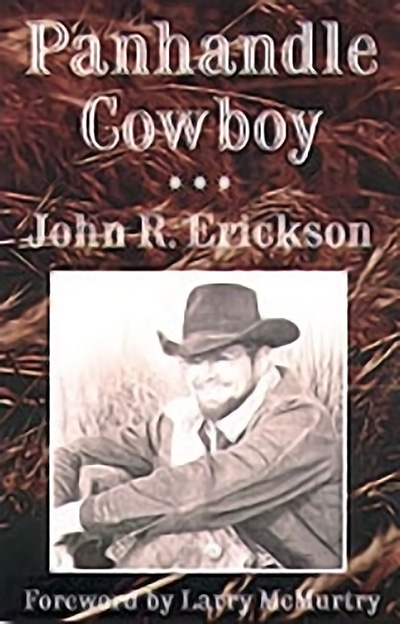 Panhandle Cowboy
Contributors: Foreword by Larry McMurtry; Photos by Bill Ellzey
28 b&w photos. Index.
Features
About Erickson's Panhandle Cowboy
"Panhandle Cowboy is a sensitive, admirably straightforward book about the texture of modern cowboying in the Oklahoma Panhandle. These truthful and affectionate descriptions of life and work in that severe locale serve to reinforce an old point: that hardship and risk are woven deeply into the appeal of cowboying. Often as not the elements themselves provide all the hardship that anyone could well want. Should the weather happen to be comfortable, animals or the cattle market will contribute the hardship. In this one regard cowboys resemble desert Arabs: their best qualities are forged by extreme conditions. Enrich or suburbanize a Bedouin or a cowboy and taste, vigor, and sense of craft are soon lost. Keep them out where the winds blow, the sands storm, and the animals resist all reasonable effort and they remain superb workmen, alert, humorous, and subtle." —Larry McMurtry, from the Foreword
First published in 1980, this classic description of the cowboy life by master storyteller John Erickson is now back in print. His observations about the Crown Ranch in particular, and the cowboy lifestyle in general, are filled with humor as well as pathos. Erickson describes the ranch, individual cowboys, roundups, wild cattle, and horses.
"Along about five o'clock in the afternoon, when we were so sore and exhausted we wanted to drop in our tracks, we kept ourselves going with nothing but pride and stubbornness and will power. We taunted each other. We teased. We invented and bellowed lunatic songs at the top of our lungs. I offer the following as an example of our doggerel. This verse, one of many which spring from our fogged brains, celebrated the villain for whom we were working, ranch owner and 'trail boss' Lawrence Ellzey:
The trail boss' orders inspire us with fear.
He don't pay no wages but he furnishes beer.
Two six-packs a month and a kick in the rear,
Yippie-ti-yi-yo, what am I doin' here?"
About the Author
JOHN R. ERICKSON, a fifth-generation Texan, was born and raised in the Texas Panhandle. In 1982 Erickson launched the Hank the Cowdog series, with sales well over seven million copies and counting. He is the author of Prairie Gothic, The Modern Cowboy, Catch Rope, LZ Cowboy, Panhandle Cowboy, Some Babies Grow Up to Be Cowboys, and Friends, all published by the University of North Texas Press.