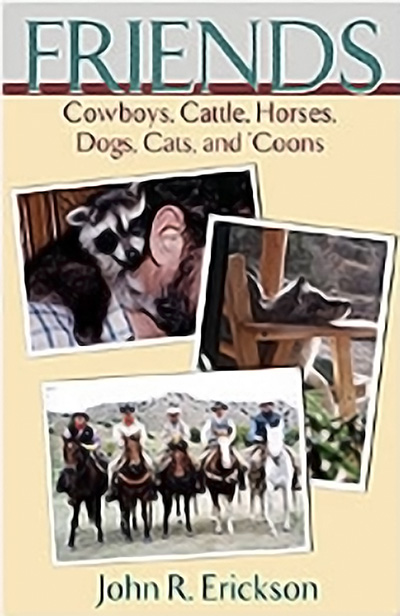 Friends: Cowboys, Cattle, Horses, Dogs, Cats, and 'Coons
14 b/w photos. Index.
Features
About Erickson's Friends
From the creator of Hank the Cowdog
Here under one cover are the collected writings of John R. Erickson about characters who have entered his life on the High Plains country of the Texas Panhandle. Erickson writes with authority about ranching and cowboying in the modern era, always with an eye for the humor of everyday incidents. Some of his friends are widely known, such as artist Ace Reid and noted fiddle player Frankie McWhorter. Others are cowboys who work the big ranches between the Canadian and Beaver Rivers. They share the stage with some of Erickson's four-legged friends: the Phantom Cow, Texie, the Incredible Burping Dog, an Arabian horse called Dandy, Callie the cat, and Eddy the raccoon.
"In this collection of stories, mostly humorous, occasionally sad, Erickson proves that the cowboy still survives with all the spirit and individuality that has been his trademark for nearly 150 years." —Elmer Kelton
About the Author
JOHN R. ERICKSON, a fifth-generation Texan, was born and raised in the Texas Panhandle. In 1982 Erickson launched the Hank the Cowdog series, with sales well over seven million copies and counting. He is the author of Prairie Gothic, The Modern Cowboy, Catch Rope, LZ Cowboy, Panhandle Cowboy, Some Babies Grow Up to Be Cowboys, and Friends, all published by the University of North Texas Press.