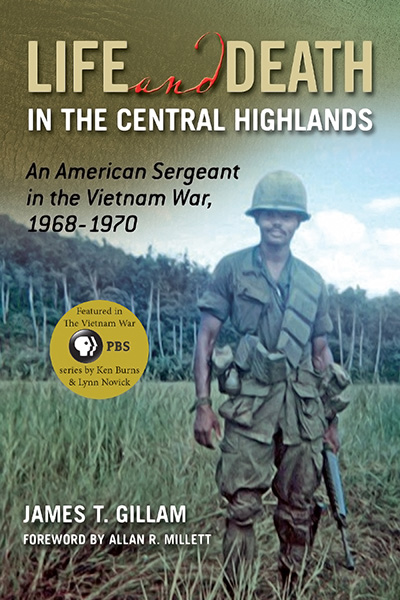 Life and Death in the Central Highlands: An American Sergeant in the Vietnam War, 1968-1970
Featured in The Vietnam War PBS series by Ken Burns & Lynn Novick, History/Military Book Club Selection, 2010
September, 2010
Published
23 b&w illus. 7 maps. Gloss. Notes. Bib. Index.
Features
About Gillam's Life and Death in the Central Highlands
Listen to an interview with James T. Gillam for the War and Life YouTube interview series hosted by Preston Jones of John Brown University (September 23, 2019).
Listen to an interview with James T. Gillam for the War and Life YouTube interview series hosted by Preston Jones of John Brown University (October 25, 2019).
---
In 1968 James T. Gillam was a poorly focused college student at Ohio University who was dismissed and then drafted into the Army. Unlike most African Americans who entered the Army then, he became a Sergeant and an instructor at the Fort McClellan Alabama School of Infantry. In September 1968 he joined the First Battalion, 22nd Regiment of the 4th Infantry Division in Vietnam. Within a month he transformed from an uncertain sergeant—who tried to avoid combat—to an aggressive soldier, killing his first enemy and planning and executing successful ambushes in the jungle. Gillam was a regular point man and occasional tunnel rat who fought below ground, an arena that few people knew about until after the war ended. By January 1970 he had earned a Combat Infantry Badge and been promoted to Staff Sergeant.
Then Washington's politics and military strategy took his battalion to the border of Cambodia. Search-and-destroy missions became longer and deadlier. From January to May his unit hunted and killed the enemy in a series of intense firefights, some of them in close combat. In those months Gillam was shot twice and struck by shrapnel twice. He became a savage, strangling a soldier in hand-to-hand combat inside a lightless tunnel. As his mid-summer date to return home approached, Gillam became fiercely determined to come home alive. The ultimate test of that determination came during the Cambodian invasion. On his last night in Cambodia, the enemy got inside the wire of the firebase, and the killing became close range and brutal.
Gillam left the Army in June 1970, and within two weeks of his last encounter with death, he was once again a college student and destined to become a university professor. The nightmares and guilt about killing are gone, and so is the callous on his soul. Life and Death in the Central Highlands is a gripping, personal account of one soldier's war in the Vietnam War.
"Jim Gillam experienced real combat in his Vietnam tour. His stunning accounts of killing and avoiding being killed ring true. Although wounded several times, Jim did not leave the field for treatment in a field hospital, so he never generated the paperwork for a Purple Heart or two or three. Although he would be appalled at the thought, his attention to duty was 'lifer' behavior, a concern for the well-being of his squad that represents the best of NCO leadership in any army." —Allan R. Millett, author of Semper Fidelis and coauthor of A War to Be Won
"[Gillam] looks back on his experiences of Vietnam not solely as a participant in the war, but also with the critical eye of a trained historian… . [He] uses an impressive array of after action reports, duty officer logs, battlefield reports, and other primary source material, to back up and reinforce his recollections." —Journal of Military History review by James H. Willbanks, author of The Tet Offensive
"Gillam, a 'shake and bake' sergeant, presents a good account of small unit infantry action during the war. He is very good at explaining the weaponry, tactics, and living conditions in the field." —James E. Westheider, author of The African-American Experience in Vietnam
About the Author
JAMES T. GILLAM is professor of history at Spelman College in Atlanta, Georgia. He holds a doctorate in Chinese history from The Ohio State University and has served as editor of the Southeastern Review of Asian Studies. Gillam has published numerous essays for scholarly journals and has contributed expert commentary on two documentaries produced by The History Channel called "Passages," concerning tunnel warfare in Vietnam, and another on the tomb of the first Emperor of China.