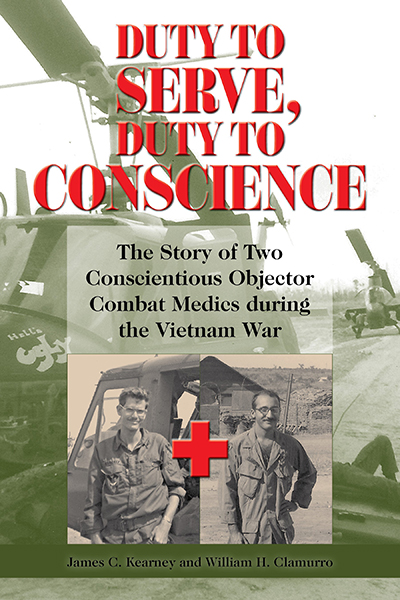 Duty to Serve, Duty to Conscience: The Story of Two Conscientious Objector Combat Medics during the Vietnam War
40 b&w illus. Notes. Bib. Index.
Features
About Kearney and Clamurro's Duty to Serve, Duty to Conscience
For more information about Duty to Serve, Duty to Conscience, visit https://jamesckearney.com/.
Interviews
Description
Despite all that has been written about Vietnam, the story of the 1-A-O conscientious objector, who agreed to put on a uniform and serve in the field without weapons rather than accept alternative service outside the military, has received scarce attention. This joint memoir by two 1-A-O combat medics, James C. Kearney and William H. Clamurro, represents a unique approach to the subject. It is a blend of their personal narratives—with select Vietnam poems by Clamurro—to illustrate noncombatant objection as a unique and relatively unknown form of Vietnam War protest.
Both men initially met during training and then served as frontline medics in separate units "outside the wire" in Vietnam. Clamurro was assigned to a tank company in Tay Ninh province next to the Cambodian border, before reassignment to an aid station with the 1st Air Cavalry. Kearney served first as a medic with an artillery battery in the 1st Infantry Division, then as a convoy medic during the Cambodian invasion with the 25th Infantry Division, and finally as a Medevac medic with the 1st Air Cavalry. In this capacity Kearney was seriously wounded during a "hot hoist" in February 1971 and ended up being treated by his friend Clamurro back at base.
Because of their status as "a new breed of conscientious objector"—i.e., more political than religious in their convictions—the authors' experience of the Vietnam War differed fundamentally from that of their fellow draftees and contrasted even with the great majority of their fellow 1-A-O medics, whose conscientious objector status was largely or entirely faith-based.
About the Authors
JAMES C. KEARNEY currently teaches at the University of Texas in Austin. He is the author of Nassau Plantation; co-editor of Journey to Texas, 1833; and translator and editor of Friedrichsburg: The Colony of the German Fürstenverein.
WILLIAM H. CLAMURRO is professor emeritus of Spanish at Emporia State University in Kansas. He is the author of three books of literary criticism on Cervantes and Quevedo and three books of poetry, including The Vietnam Typescript.