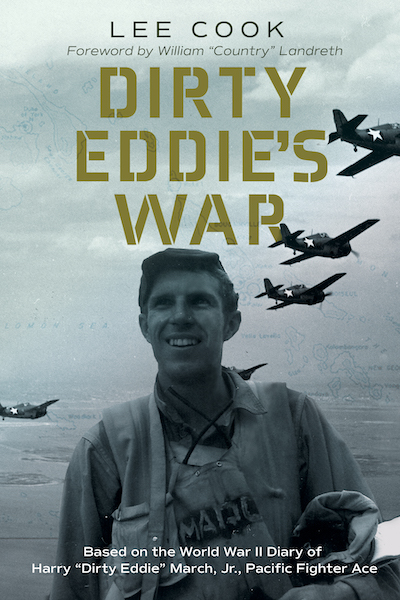 Dirty Eddie's War: Based on the World War II Diary of Harry "Dirty Eddie" March, Jr., Pacific Fighter Ace
37 b&w illus. 13 maps. Notes. Bib. Index.
Features
About Cook's Dirty Eddie's War
Dirty Eddie's War is the true account of the war-time experiences of Harry Andrew March, Jr., captured by way of diary entries addressed to his beloved wife, Elsa. Nicknamed "Dirty Eddie" by his comrades, he served as a member of four squadrons operating in the South Pacific, frequently under difficult and perilous conditions. Flying initially from aircraft carriers covering the landings at Guadalcanal in August 1942, he was one of the first pilots in the air over the island and then later based at Henderson Field with the "Cactus Air Force." When he returned to combat at Bougainville and the "Hot Box" of Rabaul, the exploits of the new Corsair squadron "Fighting Seventeen" became legendary.
Disregarding official regulations, March kept an unauthorized diary recording life onboard aircraft carriers, the brutal campaign and primitive living conditions on Guadalcanal, and the shattering loss of close friends and comrades. He captures the intensity of combat operations over Rabaul and the stresses of overwhelming enemy aerial opposition.
Lee Cook presents Dirty Eddie's story through genuine extracts from his diary supplemented with contextual narrative on the war effort. It reveals the personal account of a pilot's innermost thoughts: the action he saw, the effects of his harrowing experiences, and his longing to be reunited with the love of his life back home.
About the Author
LEE COOK is the author of The Skull and Crossbones Squadron: VF-17 in World War II; Fighting 17: A Photographic History of VF-17 in World War II; and The Aces of Fighting 17: VF-17's Top Guns in World War II. He lives in Norfolk, England, with his wife Michele.