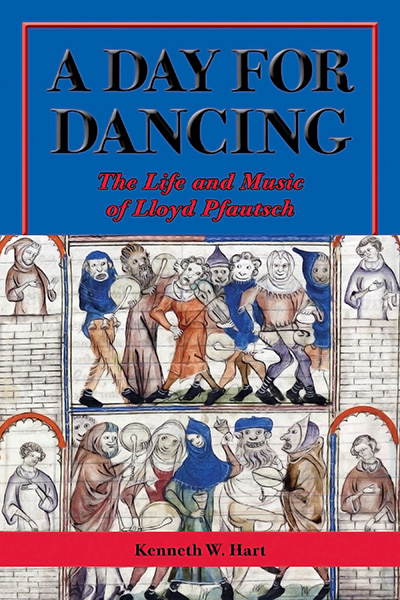 A Day for Dancing: The Life and Music of Lloyd Pfautsch
26 b&w illus. App. Notes. Bib. Index.
Features
About Hart's A Day for Dancing
After earning his theology degree from Union Seminary in New York, Lloyd Pfautsch (1921–2003) found his true calling in church music. He was invited to Southern Methodist University in 1958 to start their graduate program in sacred music and remained there for 34 years. Outside the university, he formed the Dallas Civic Chorus and led it for 25 years. He was nationally known for his conducting and the quality of the musicians he produced as well as for his compositions, many of which are illustrated here with his handwritten notations.
This is the first biography of this important figure, and it is told from the viewpoint of a longtime colleague and friend. Aligned with the biography, Hart analyzes some of Pfautsch's hundreds of compositions. This is the definitive work on one of the most influential American choral musicians of the twentieth century.
"The combination of biographical facts, history, and anecdotal accounts makes this work unique. Pfautsch was a powerful choral figure, and many conductors mentored under his guidance." —Tim Sharp, Executive Director, American Choral Directors Association
"Kudos to Kenneth Hart for capturing the spirit of one of the most influential choral conductors and composers of the last half of the twentieth century. A Day for Dancing is not only the biography of Lloyd Pfautsch, but also, because of Pfautsch's wide recognition, an introduction to many of the major choral conductors and mainline church musicians in the United States between 1950-1990. Lloyd Pfautsch embodied the best of his Lutheran heritage, by living out one of Martin Luther's most famous assertions: 'Next to the Word of God, music deserves the highest praise.'" –—C. Michael Hawn, D.M.A. University Distinguished Professor of Church Music and Director, Sacred Music Program, Perkins School of Theology, Southern Methodist University
"Prof. Hart's thoroughgoing, detailed biography refreshes the memories of former colleagues and students, introduces the person Pfautsch to countless thousands who performed under his creative baton and continue to sing his remarkably choral works, and contributes to an understanding of the post-World War II development of the choral instrument in North America: its conductors, pedagogues, repertory, publishing, and performance practices." —Carlton R. "Sam" Young, professor of Church Music, emeritus, Emory University
About the Author
KENNETH W. HART holds graduate degrees from Union Theological Seminary and The University of Cincinnati's College-Conservatory of Music. He has conducted award-winning choirs and university choirs around the globe. For 18 years he was Director of Sacred Music at Southern Methodist University, where he became a lifelong friend of Lloyd Pfautsch.