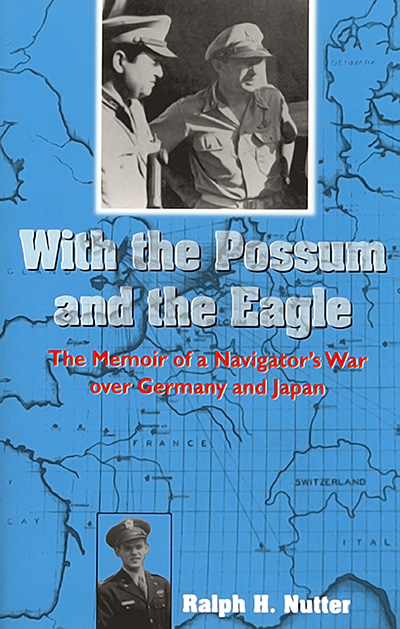 With the Possum and the Eagle: The Memoir of a Navigator's War over Germany and Japan
24 b&w photos. 2 maps. Gloss. Bib. Index.
Features
About Nutter's With the Possum and the Eagle
Ralph H. Nutter was the lead navigator for Eighth Air Force raids over Germany when he was assigned as Maj. Gen. Curtis "the Eagle" LeMay's group navigator. Later, as the strategic air war over Europe was winding down, the ace navigator was transferred to B-29 Superfortress duty with the Twentieth Air Force in the Pacific, where he was picked by Brigadier Gen. Haywood "Possum" Hansell to be his bomber navigator. After LeMay succeeded Hansell as bomber commander, Nutter returned to navigation duty with LeMay.
Hansell and LeMay were two of our country's leading combat commanders in Europe and the Pacific. They pioneered the concepts of strategic airpower and high-altitude daylight precision bombing. With the Possum and the Eagle affords a rare insider's perspective on aviation leadership and strategic issues, melded with extraordinary accounts of courage under fire.
"As one who worked for General LeMay for six years, I found this book to be truly outstanding, a must read for anyone interested in leadership under intense pressure. The other books on LeMay cannot hold a candle to this one." —General David C. Jones, former Chairman of the Joint Chiefs of Staff
"A major contribution to the history of U.S. Army Air Forces' strategic air operations against Germany and Japan." —General Henry C. Huglin, USAF Ret.
"Nothing like this book exists insofar as first person insights into the critical decisions and interaction of LeMay, Hansell, Norstad, and Arnold. Nutter's account fills a big void in the history of WWII aerial bombardment." —Gen. Russell Dougherty, USAF Ret.
"Simply the best original work I have read in thirty years." —Tom Britton, docent at the National Air and Space Museum, Washington, D.C.
Back in Print.
About the Author
RALPH H. NUTTER is a retired superior court judge living in Santa Barbara, California. He is one of the few survivors of the 305th Bomb Group.