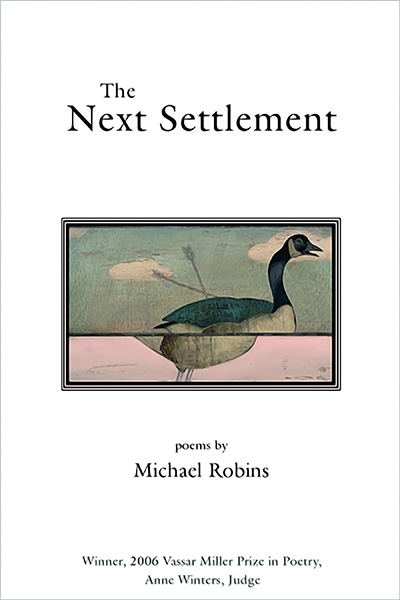 The Next Settlement
Winner of the Vassar Miller Prize in Poetry, 2006
About Robins's The Next Settlement
"Grief repairs grief," Michael Robins writes in The Next Settlement, and in these meditative poems, voices map the world with precision as a way to mend the holes they find in it. Pristine natural landscapes provide a jarring counterpoint to troubled internal terrain. These enigmatic scenes are masterfully rendered with a photographer's eye.
"Michael Robins' prismatic poems open windows, then close them, so we're always getting glimpses of light that suggest a larger world. With never a syllable to spare, these poems are beautiful and haunting. I know of nothing like them." —James Tate, winner of the 1992 Pulitzer Prize for Poetry
"The Next Settlement is a finely honed, resonant collection of poems, sharp and vivid in language, uncompromising in judgment. The voice in this book is unsparing, often distressed, and involved in a world which is intrusive, violent, and deeply deceitful, where honesty and compassion are sought for in vain, and refuges for the mind are rare." —Anne Winters, judge and author of The Key to the City
Winner of the Vassar Miller Prize in Poetry, 2006. The annual Vassar Miller Prize in Poetry is awarded to a previously unpublished collection of poetry. The winner receives $1,000 and publication by the University of North Texas Press.
About the Author
MICHAEL ROBINS was raised in Portland, Oregon, and educated at the University of Oregon and the University of Massachusetts Amherst. His poems have appeared in Boston Review, The Cincinnati Review, Denver Quarterly, The Iowa Review, and elsewhere. He lives in Chicago.