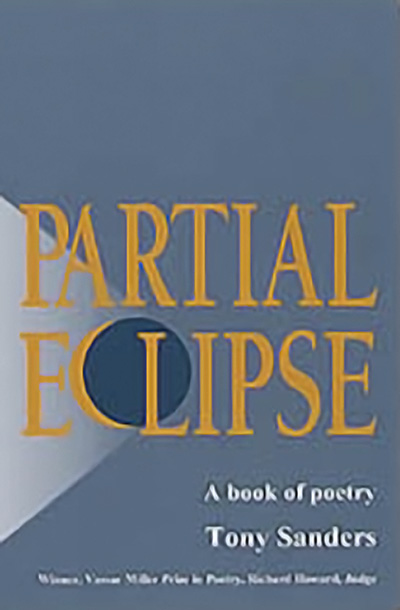 Partial Eclipse
Winner of the Vassar Miller Prize in Poetry, 1993
About Sanders's Partial Eclipse
"Sanders brings together his own sensibility (quizzical, approaching middle-age, slightly disaffected, bemused, learned but not stuffy) and an alertness to what can be appropriated from history, myth, the daily papers." —Choice
"…a distinguished first collection from a poet about whom we will be hearing more." —Houston Post
Commenting upon his selection, Mr. Howard writes:
"Sanders proceeds through his… poems with a pervasive steadiness of diction,… a syntactic resonance quite his own yet gratefully beholden to such exacting masters as Stevens and Ashbery. The freshness of the poems is a result of their immersion in life with others, achieving the resolute tonality of a man speaking not so much out or up but on, talking his way to the horizon."
Hypocrite City
I have been unkind to you,
the way the city is unkind to strangers.
I have opened the umbrella of lies,
only to disappear into the crowd.
I have skipped every bus this evening,
only to wait for the one that's empty.
Can't you see me sitting in the back,
my streetwise eye fixed on the dark.
My heart is a city of sirens and glass.
I'm neither uptown nor downtown,
I've been so busy with the curbs.
My city is a diary of streetlamps
programmed to turn off at dawn.
Can't you see me leaning on one,
holding up the furthest street.
Yes, there is a ghetto in my heart,
the neighborhood-over-my-shoulder.
I have been unkind to myself.
The Vassar Miller Prize in Poetry is an annual, national competition resulting in the publication of a winning manuscript each fall. Partial Eclipse by Tony Sanders, the winner of the 1993 competition, was selected by Richard Howard, Pulitzer Prize winner in poetry and winner of the American Book Award.
About the Author
TONY SANDERS lives in New York City; he was educated at Yale University, University of Iowa, and University of Houston. His poems have appeared in Gettysburg Review, Grand Street, Harvard Review, Paris Review, Prairie Schooner, The New Republic and many other journals. Partial Eclipse is his first collection.