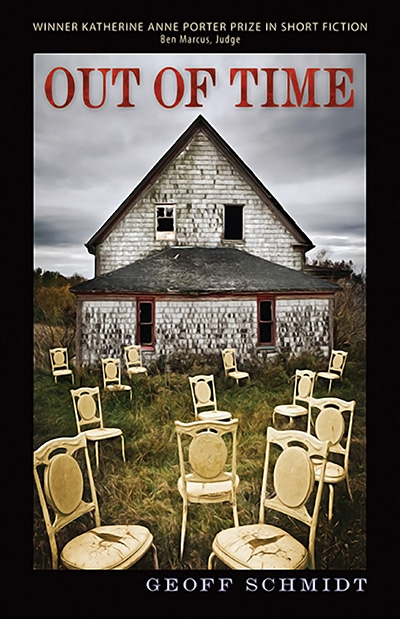 Out of Time
Winner of the Katherine Anne Porter Prize in Short Fiction
About Schmidt's Out of Time
A sweet slipstream stew, a call and response to Hemingway's In Our Time, Geoff Schmidt's debut collection Out of Time is a meditation on meaning and mortality, and the ways that story and the imagined life can sustain us. In these stories, vengeful infants destroy and rebuild the world, rivalrous siblings and their mother encounter witches and ghosts and the possessed, Barack Obama and Keith Richards smoke their last cigarettes, men and women with cancer variously don gorilla suits or experience all time simultaneously. Time is running out for all of the people in these stories, yet the power of language, the human ability to tell, to imagine and invent, is a redemptive force.
"The stories in Out of Time chase after the secrets and sorrows of families, revealing the lengths people will go, and the harm they will do, to keep their worlds together. These characters are not crazy, they are in love and afraid. Geoff Schmidt writes a lucid, new mythology in prose that's limned with fear and awe. To read these stories is to feel the force and urgency of a new and vital literary voice." —Ben Marcus, author of Age of Wire and String, and judge
About the Author
GEOFF SCHMIDT received degrees from Kenyon College and the University of Alabama and teaches at Southern Illinois University Edwardsville. The author of a novel, Write Your Heart Out, Schmidt has won a Pushcart Prize Special Mention. His work has appeared in The Southern Review, Crab Orchard Review, New Orleans Review, Black Warrior Review, and elsewhere. He lives in Edwardsville, Illinois.