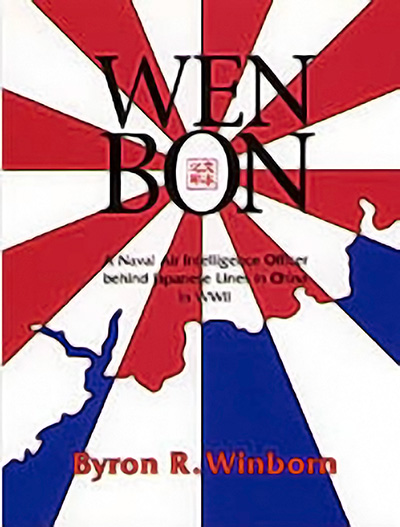 Wen Bon: A Naval Air Intelligence Officer behind Japanese Lines in China in WWII
25 b&w photos. maps. gloss. Index.
Features
About Winborn's Wen Bon
"Highly recommended for its rich adventurous story." - Reader's Review, The Bookseller's Network
"Winborn does not limit his story to hunting for wrecked aircraft. He includes anecdotes about his frequent wanderings,… how he adapted to local customs, food and changing political situations. He took many excellent photographs… a suave writer and stylish raconteur." —Associated Press
Winborn was a Naval lieutenant attached to the 14th Army Air Force to serve as a Technical Air Intelligence inspector. Learning that an enemy plane was down, a team of one or two Americans plus a Chinese interpreter would sally forth to wherever the plane might be, bringing back intelligence of the capabilities of enemy airplanes. Compilations of this data made it possible to keep tabs on Japanese manufacturing plants, indicating which were the most suitable bombing targets. Winborn tells his story in an informal, understated, conversational style that ranges from the humorous to the poignantly tragic.
Each American was given a Chinese name, i.e. a transliteration in Chinese characters which when spoken sounded something like his name in English. Winborn's was "Wen bon," typically pronounced "Wunbun." The best interpretation of its meaning is "the pen is mightier than the sword." A small neat stone "chop," or stamp, with "Wen bon" and characters for "his chop" carved in it, served as Winborn's legal signature anywhere in China.
At the end of World War II, Winborn was ordered to Shanghai, where he and other junior officers steeped in the unconventional ways of southeastern China contributed their "can-do" talents to the Naval Air Priorities Office.
About the Author
BYRON WINBORN received his engineering degree from Cornell University. He worked as a development engineer for Carrier Corporation, for General Electric Company in the aircraft gas turbine industry and for Chance Vought Aircraft on advanced aeronautical systems.