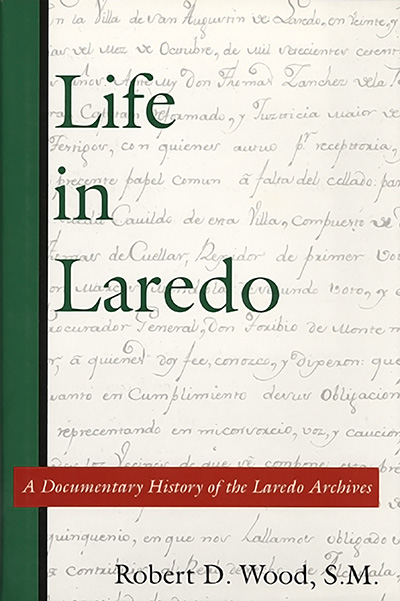 Life in Laredo: A Documentary History from the Laredo Archives
The Webb County Heritage Foundation Jim Parish Award, 2004

San Antonio Conservation Society Award, 2004
Map. 12 b/w illus. App. Notes. Bib. Index.
Features
About Wood's Life in Laredo
Based on documents from the Laredo Archives, Life in Laredo shows the evolution and development of daily life in a town under the flags of Spain, Mexico, and the United States. Isolated on the northern frontier of New Spain and often forgotten by authorities far away, the people of Laredo became as grand as the river that flowed by their town and left an enduring legacy in a world of challenges and changes. Because of its documentary nature, Life in Laredo offers insights into the nitty-gritty of the comings and goings of its early citizens not to be found elsewhere.
Robert D. Wood, S.M., presents the first one hundred years of history and culture in Laredo up to the mid-nineteenth century, illuminating—with primary source evidence—the citizens' beliefs, cultural values, efforts to make a living, political seesawing, petty quarreling, and constant struggles against local Indians. He also details rebellious military and invading foreigners among the early settlers and later townspeople.
Scholars and students of Texas and Mexican American history, as well as the Laredoans celebrating the 250th anniversary (in 2005) of Laredo's founding, will welcome this volume.
"Although there have been a number of books on the history of Laredo, this particular study is far more thorough than any previous work. Life in Laredo is imaginatively organized, exceptionally well researched, and well written. No individual knows the Laredo Archives as well as Robert Wood, and his knowledge and understanding are readily evident. This book will be of interest to anyone studying the history of the Texas-Mexico border, Texas colonial history, or just Texas history in general." —Jerry D. Thompson, author of A Wild and Vivid Land: An Illustrated History of the South Texas Border and Laredo: A Pictorial History
"Robert Wood, as author-editor-translator, has set out to provide a view of various aspects of daily life and has succeeded. Other histories of Laredo or even of San Antonio do not provide the same nitty-gritty detail of daily life, so clearly this is a unique contribution." —Gilberto M. Hinojosa, author of A Borderlands Town in Transition: Laredo, 1744-1870
About the Author
BROTHER ROBERT D. WOOD, S.M., was born in St. Louis, Missouri, and joined the Society of Mary (Marianists) in 1945. He received his Ph.D. from the Pontifical Catholic University of Peru in 1967, with a specialty in Latin American History. He is currently in charge of the archives at St. Mary's University in San Antonio, where the Laredo Archives are housed. He has taught and held various administrative positions in Marianist high schools and universities in the United States, Canada, Japan, Peru, and Mexico.
The author of eight books on religion, history, and archaeology, Wood also has privately published six volumes of documents from the Laredo Archives, along with an index volume. He has translated several other works from Spanish to English for publication and contributed more than thirty articles to various journals and magazines.