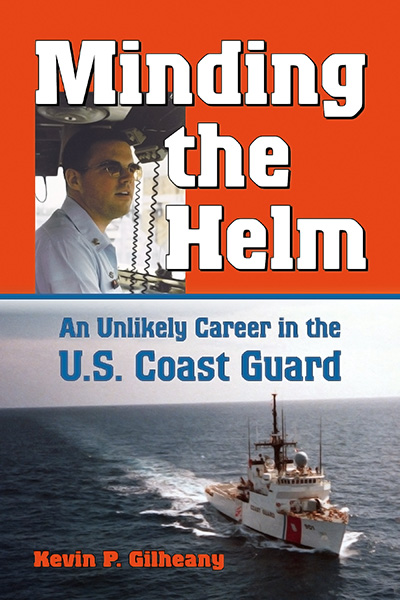 Minding the Helm: An Unlikely Career in the U.S. Coast Guard
28 b&w illus. Notes. Bib. Index.
Features
About Gilheany's Minding the Helm
As a boy growing up in New York City, Kevin P. Gilheany had two dreams: to join the Coast Guard and to play the bagpipes. But by the time he finished high school he was overweight, had a drinking problem, and couldn't swim. Undeterred by the doubts of the folks at home, he decided to enlist in the Coast Guard anyway.
With great determination and some divine intervention, he passed the swim test and graduated from boot camp, thus beginning an eventful and diverse twenty-year career in the 1980s and 1990s Coast Guard. He set a goal for himself to get command of his own patrol boat, and along the way he was involved in capturing drug smugglers, rescuing hundreds of Haitian migrants at sea, recovering Space Shuttle Challenger debris, surviving a "hooligan navy" experience on a Coast Guard workboat, coordinating search and rescue during the famed "Perfect Storm," and leading armed boardings of ships following the terrorist attacks of 9/11.
When he was asked by one of his men, who was dying from brain cancer, to play bagpipes at his retirement ceremony, Kevin started down a new path to have bagpipers officially recognized as part of the Coast Guard. This ultimately led a boy who couldn't swim to fulfill both of his childhood dreams and leave a lasting legacy by founding the U.S. Coast Guard Pipe Band.
"This is a valuable and well-written Coast Guard memoir. Anyone interested in Coast Guard history, the Space Shuttle Challenger disaster, Pipe Bands, or Homeland Security with incoming foreign commercial vessels would be interested in this book." —–C. Douglas Kroll, author of A Coast Guardsman's History of the U.S. Coast Guard
About the Author
KEVIN P. GILHEANY is a retired U.S. Coast Guard chief warrant officer, professional speaker, consultant, and founder of the U.S. Coast Guard Pipe Band. He is a recipient of the U.S. Coast Guard Public Service Commendation.