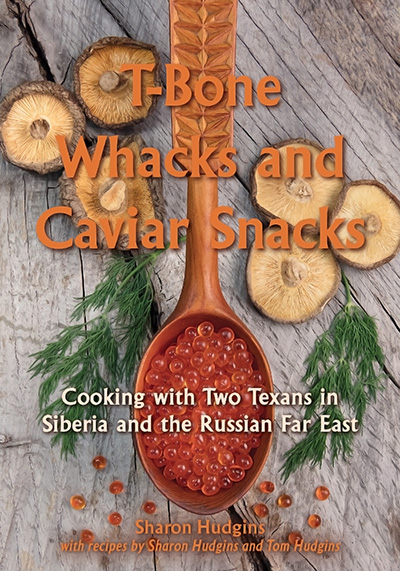 T-Bone Whacks and Caviar Snacks: Cooking with Two Texans in Siberia and the Russian Far East
Contributors: With Recipes by Sharon Hudgins and Tom Hudgins
Gourmand World Cookbook Awards Finalist, Silk Road Category, 2019
30 color illus. 30 b&w illus. Bib. Index.
Features
About Hudgins's T-Bone Whacks and Caviar Snacks
Listen to the Montana Public Radio show The Food Guys discuss "Kulebyaka: Between The Salmon And The Pastry, What's Not To Love?", a recipe from T-Bone Whacks and Caviar Snacks.
Listen to this episode of Christopher Kimball's Milk Street Radio, where Sharon Hudgins discusses T-Bone Whacks and Caviar Snacks and "The Joys of Mystery Meat, Power Outages, Evil Spirits and the Stove from Hell."
Watch Sharon Hudgins's segment on Good Morning Texas to learn how to make Siberian Pine Nut Meringues.
---
T-Bone Whacks and Caviar Snacks is the first cookbook in America to focus on the foods of the Asian side of Russia. Filled with fascinating food history, cultural insights, and personal stories, it chronicles the culinary adventures of two intrepid Texans who lived, worked, and ate their way around Siberia and the Russian Far East.
Featuring 140 traditional and modern recipes, with many illustrations, T-Bone Whacks and Caviar Snacks includes dozens of regional recipes from cooks in Asian Russia, along with recipes for the European and Tex-Mex dishes that the author and her husband cooked on the "Stoves-from-Hell" in their three Russian apartments, for intimate candlelight dinners during the dark Siberian winter and for lavish parties throughout the year.
You'll learn how to make fresh seafood dishes from Russia's Far East, pine nut meringues and frozen cranberry cream from Irkutsk, enticing appetizers from the dining car of a Trans-Siberian luxury train, and flaming "Baked Siberia" (the Russian twist on Baked Alaska). And here's the bonus: All of these recipes can be made with ingredients from your local supermarket or your nearest delicatessen.
"Sharon has recorded an important slice of Russian history and culture. She has produced a treasure of a book that will be referenced by cultural historians and home cooks for decades to come." —–Catherine Cheremeteff Jones, author of A Year of Russian Feasts
About the Author
SHARON HUDGINS is the author of five books, including an award-winning cookbook about the regional cuisines of Spain and a travel memoir, The Other Side of Russia. A former professor with the University of Maryland's program in Russia, she has also been a National Geographic Expert on Trans-Siberian Railroad tours. TOM HUDGINS is an economics professor and accomplished cook. They live in north Texas.