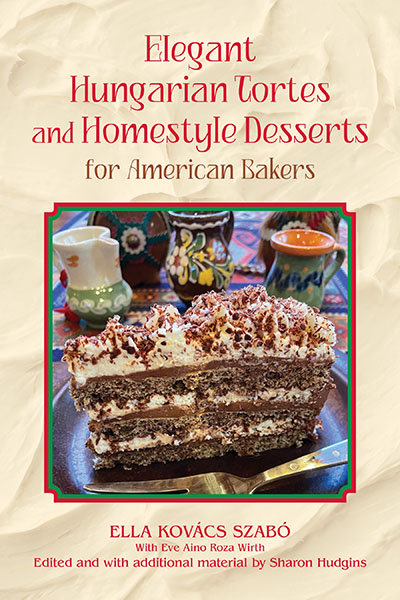 Elegant Hungarian Tortes and Homestyle Desserts for American Bakers
16 color and 36 b&w illus. Bib. Index.
Features
About Szabó and Hudgins's Elegant Hungarian Tortes and Homestyle Desserts for American Bakers
When Ella Szabó fled her homeland during the Hungarian Revolution of 1956, she never dreamed that someday she would become a member of the US Olympic swimming team, an accomplished baker in America, and the author of a cookbook about Hungarian desserts. But a chance encounter with a fellow Hungarian in Connecticut led to Ella's becoming the custodian of a collection of heirloom recipes that form the core of this book.
You'll learn from more than fifty recipes how to bake Hungarian tortes, cookies, pastries, and cakes, from elegant old-world pastry-shop classics like Linzer Torte and Esterhazy Torte to easy homestyle desserts, many of them from recipes that have never been published before. Try your hand at delicate nut-flour tortes made from walnuts, almonds, and hazelnuts: Almond Meringue Torte with Coffee-Cream Filling, Walnut Wedding Torte with Hazelnut Filling, and Chocolate Roulade with Hazelnut Cream. Enjoy easy-to-make Hungarian Almond Biscotti, Orange Kugelhopf, and Cherry Sponge Cake. And delight in devouring Walnut-Apricot-Lemon Bars, traditional Hungarian Cheese Biscuits, and Beigli, a Hungarian pastry roll filled with walnuts or poppy seeds, always eaten at Christmas. You'll also find a complete section on ingredients, equipment, and techniques, as well as several historical and contemporary photographs. And a bonus: most of the recipes for fine nut-flour tortes are naturally gluten-free.
About the Author
ELLA KOVÁCS SZABÓ (1929–2009) emigrated from Hungary to the United States in 1956. A talented baker, she was a member of the International Association of Culinary Professionals, a fund raiser for Les Dames d'Escoffier, and was initiated into the National League of American Pen Women.
About the Editor
SHARON HUDGINS is the author of five books, including an award-winning cookbook about the regional cuisines of Spain and a travel memoir, The Other Side of Russia. A former professor with the University of Maryland's program in Russia, she has also been a National Geographic Expert on Trans-Siberian Railroad tours. TOM HUDGINS is an economics professor and accomplished cook. They live in north Texas.