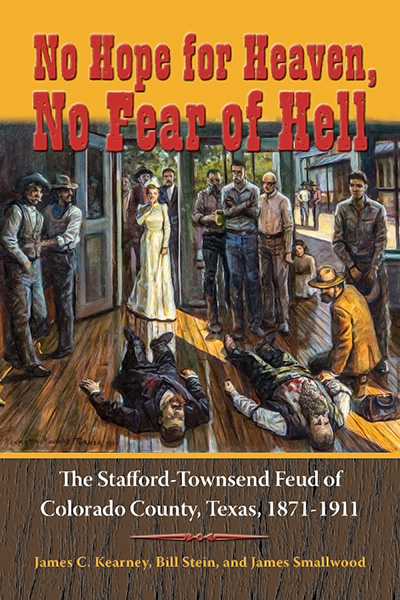 No Hope for Heaven, No Fear of Hell: The Stafford-Townsend Feud of Colorado County, Texas, 1871-1911
44 b&w photos. Map. Notes. Bib. Index.
Features
About Kearney et al.'s No Hope for Heaven, No Fear of Hell
Two family names have come to be associated with the violence that plagued Colorado County, Texas, for decades after the end of the Civil War: the Townsends and the Staffords. Both prominent families amassed wealth and achieved status, but it was their resolve to hold on to both, by whatever means necessary, including extra-legal means, that sparked the feud. Elected office was one of the paths to success, but more important was control of the sheriff's office, which gave one a decided advantage should the threat of gun violence arise.
No Hope for Heaven, No Fear of Hell concentrates on those individual acts of private justice associated with the Stafford and Townsend families. It began with an 1871 shootout in Columbus, followed by the deaths of the Stafford brothers in 1890. The second phase blossomed after 1898 with the assassination of Larkin Hope, and concluded in 1911 with the violent deaths of Marion Hope, Jim Townsend, and Will Clements, all in the space of one month.
"[Y]ou will find this book endlessly fascinating, filled with gunfights, ambushes, unexplained deaths, murder, juries allowing culprits to go free, and all sorts of skullduggery within the law enforcement community, since many of the sheriffs were related to one combatant or another. Anger, resentment, revenge, hard feelings, and smoldering payback fill these pages." —Chronicle of the Old West
"[A] fascinating and sophisticated examination of a Texas feud that should be of interest to scholars of Texas history, the West, and the South." —Southwestern Historical Quarterly
"I am enormously impressed by this project. There is high drama, tragedy, strong characters, conflict between families, vengeance, and a series of vicious shootouts over a lengthy period of years." —–Bill O'Neal, State Historian of Texas and author of The Johnson-Sims Feud
About the Authors
JAMES C. KEARNEY currently teaches at the University of Texas in Austin. He is the author of Nassau Plantation; co-editor of Journey to Texas, 1833; and translator and editor of Friedrichsburg: The Colony of the German Fürstenverein.
BILL STEIN was director and archivist at the Nesbitt Memorial Library in Columbus.
JAMES SMALLWOOD was professor of history at Oklahoma State University and the author of more than twenty books on Texas history.
Texas Local: Recent Titles
See all titles in our Series: Texas Local