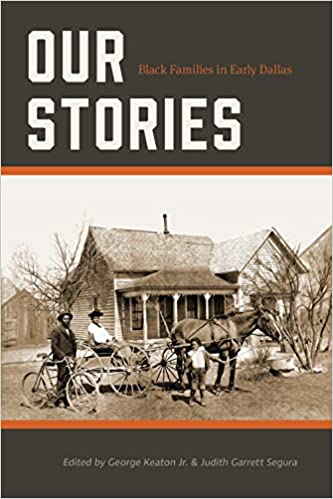 Our Stories: Black Families in Early Dallas
September, 2022
Published
22 b&w illus. Map. Notes. Index.
Features
About Keaton Jr. and Segura's Our Stories
Our Stories: Black Families in Early Dallas enlarges upon two pub¬lications by the late Dr. Mamie McKnight's organization, Black Dallas Remembered—First African American Families of Dallas (1987) and African American Families and Settlements of Dallas (1990). Our Stories is the history of Black citizens of Dallas going about their lives in freedom, as described by the late Eva Partee McMillan: "The ex-slaves purchased land, built homes, raised their children, erected their educational and religious facilities, educated their children, and profited from their labor.""
Our Stories brings together memoirs from many of Dallas's earliest Black families, as handed down over the generations to their twentieth-century descendants. The period covered begins in the 1850s and goes through the 1930s. Included are detailed descriptions of more than thirty early Dallas communities formed by free African Americans, along with the histories of fifty-seven early Black families, and brief biographies of many of the early leaders of these Black communities.
The stories reveal hardships endured and struggles overcome, but the storytellers focus on the triumphs over adversity and the successes achieved against the odds. The histories include the founding of churches, schools, newspapers, hospitals, grocery stores, businesses, and other institutions established to nourish and enrich the lives of the earliest Black families in Dallas.
About the Editor
GEORGE KEATON JR. retired from Dallas Independent School District after thirty-one years as a teacher and counselor. In 2015 he founded and continues to lead Remembering Black Dallas, dedicated to preserving and sharing the experiences of the African American families of Dallas County.
JUDITH GARRETT SEGURA is the author of BELO: From Newspapers to New Media, a history of DallasNews Corporation, Texas's oldest business institution, which dates from 1842.
Texas Local: Recent Titles
See all titles in our Series: Texas Local