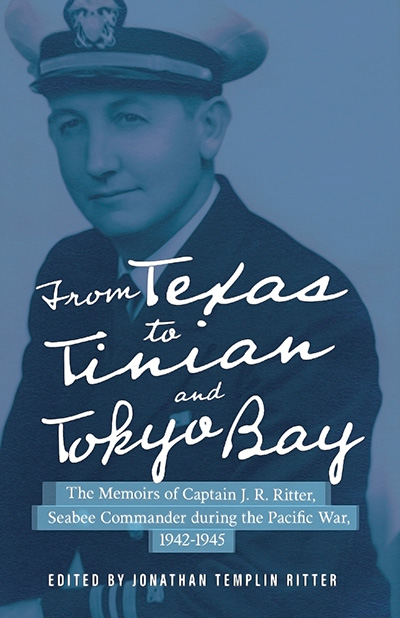 From Texas to Tinian and Tokyo Bay: The Memoirs of Captain J. R. Ritter, Seabee Commander during the Pacific War, 1942-1945
12 b&w illus. 6 maps. Notes. Bib.
Features
About Ritter's From Texas to Tinian and Tokyo Bay
This is the story of J. R. Ritter (1902-1994), a civil engineer from Texas who became a U.S. Navy Seabee officer during World War II. For his memoir he preserved personal papers, letters, photos, and other items, many of which are reproduced in this book. His narrative is edited and annotated by his grandson, Jonathan Templin Ritter.
The U.S. Naval Construction Battalions, known as the "Seabees," were formed in March 1942. Their duties were to build military facilities and airfields overseas, in both the European and Pacific Theaters. In the Pacific Theater alone, including the Aleutians, the Seabees built 111 major airstrips, 441 piers, 2258 ammunition magazines, and much more.
Ritter tells the story of two Seabee Battalions, one in the Aleutians and one in the Central Pacific. He describes the Aleutian Islands Campaign during 1942-1943, when there was a real concern that Japan might try to attack Alaska and the continental United States through the "back door." Ritter also gives an eyewitness account of the building of the airfields on Tinian Island in the Northern Marianas that enabled the B-29 fire raids on Japan—the "Empire Run"—which culminated in the two missions that dropped the atomic bombs in August 1945, ending the Pacific War.
This book provides a major contribution to the wartime literature about the Seabees, those brave, resourceful, and hard-working American patriots, whose mottos were "Can do!" and "The difficult we do now; the impossible takes a little longer."
About the Editor
JONATHAN TEMPLIN RITTER has worked as an archivist with the Archdiocese of San Francisco and is currently the archivist for Archbishop Riordan High School. He earned a master's degree in history from San Francisco State University and a master's degree in library & information science from San Jose State University. He lives in San Francisco.