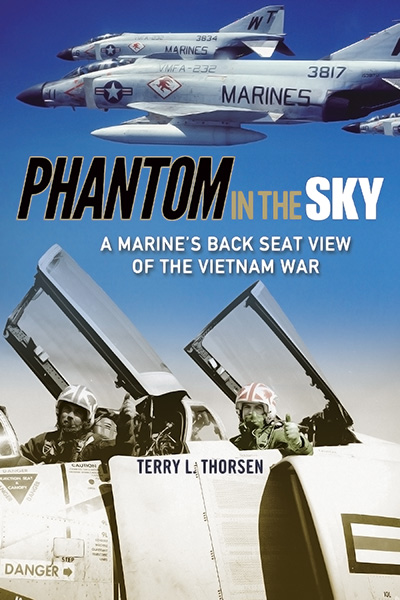 Phantom in the Sky: A Marine's Back Seat View of the Vietnam War
31 b&w illus. Map. Notes. Bib. Index.
Features
About Thorsen's Phantom in the Sky
Listen to an interview with Terry L. Thorsen for the War and Life YouTube interview series hosted by Preston Jones of John Brown University.
---
Phantom in the Sky is the story of a Radar Intercept Officer (RIO) in the back seat of the supersonic Phantom jet during the Vietnam War—a unique, tactical perspective of the "guy in back," or GIB, absent from other published aviation accounts. During the time of Terry L. Thorsen's service from 1966 to 1970, the RIO played an integral part in enemy aircraft interception and ordnance delivery. In Navy and Marine F-4 Phantom jets, the RIO was a second pair of eyes for the pilot, in charge of communications and navigation, and great to have during emergencies.
Thorsen endured the tough Platoon Leaders Course at Quantico and barely earned a commission. He underwent aviation and intercept training while suffering airsickness issues—and still earned his wings. Thorsen joined the oldest and most decorated squadron in the Marine Corps, the VMFA-232 Red Devils in southern California, as it prepared for deployment to Vietnam.
In combat, Thorsen felt angst when he saw the sky darken around him from anti-aircraft artillery explosions high above the Ho Chi Minh Trail. On his first close air support mission in support of ground troops (the majority of his Marine aviation missions), he witnessed tracers whiz by his canopy. On one harrowing sortie, he and his pilot purposely became the target to save an Army unit battling an enemy just a hundred feet away.
On secret missions with secret weapons, they dove at anti-aircraft artillery muzzle flashes and flew as a low as fifty feet off the deck during close air support sorties, "scraping" the napalm off their plane. For one mission a friend survived a crash landing, but a training instructor vanished without a trace.
About the Author
TERRY L. THORSEN flew 123 combat sorties, garnering ten Air Medals, a Bronze Star award, and two Navy Unit Commendations. After retiring as a major, he was a professional photographer, a crime scene investigator, and finally a police department crime lab supervisor. He lives in Mansfield, Texas.