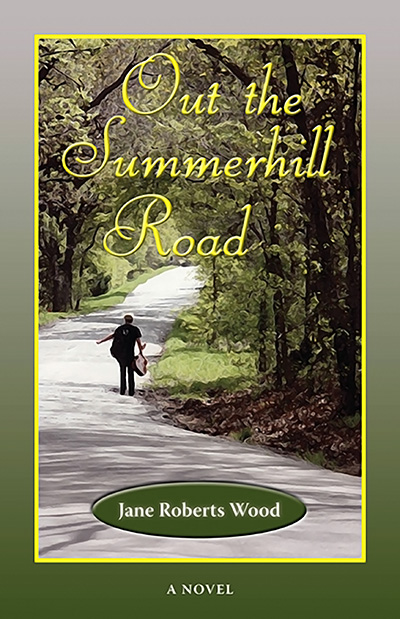 Out the Summerhill Road: A Novel
About Wood's Out the Summerhill Road
From Jane Roberts Wood comes a quietly riveting novel revealing the banal faces of evil in a small East Texas town. In 1946 a young couple is brutally murdered in Cold Springs. And, now, thirty-four years later, the rumor is that Jackson Morris, who had been the only person of interest in the murders, has come home. Or has he?
When the four women of the Tuesday bridge club hear this rumor, their responses range from a reckless excitement to a shaky uneasiness. There's Isabel, compelling and passionate, who foolishly and inexplicably longs to see Jackson, her first love, again while the seemingly innocent Mary Martha prays that the sheriff will put Jackson's head in a noose. Although the eternally optimistic Sarah looks to the law to determine Jackson's fate, the fourth woman, an Irish immigrant and a misfit in Cold Springs, is guided by the spirit world, including a cat, in deciding his guilt or innocence.
When a second murder occurs after Jackson's return, Cold Springs reacts with fear and paranoia while the women struggle to protect their friend's reputation and desperately try to find a murderer.
Praise for Jane Roberts Wood's Fiction:
"A genuine Texas treasure." —The Dallas Morning News
"Wood handles whatever she touches with delicate precision, and leaves an impression, not of bitterness of life, but of the tenderness of the human soul." —The New Mexican
Praise for the Lucy Richards Trilogy:
"It's a winner!—A real down-to-earth story that keeps you spellbound from page to page." —Liz Carpenter, former White House press secretary
"A truly fine tale of the indomitable human spirit, told in the honest voice of a strong young schoolmarm in early day West Texas." —Larry L. King, author of The Best Little Whorehouse in Texas
"Wood's lively, eccentric characters leap off the page and will live in the reader's heart long after the book is closed." —Jean Stapleton, actress
"Wood has a rare gift for transcending the ordinary and this heartwarming continuation of her earlier novels is no exception. Wood's narration is seamless and she is especially masterful in creating meaningful characters." —Publishers Weekly
About the Author
JANE ROBERTS WOOD is the award winning author of the Lucy Richards trilogy: The Train to Estelline, A Place Called Sweet Shrub, and Dance a Little Longer, as well as Grace and Roseborough, all published in paperback by UNT Press. Wood is a Fellow of both the National Endowment of the Arts and the National Endowment of the Humanities. She and her husband, J. W. "Dub" Wood, live in the horse country of Argyle, Texas, with their two dogs.